One Remodeler's Must-Have Equipment Isn't a Tool; It's a Mastertent
"I don't know how anyone works without them."
As any builder or contractor knows, a job well done requires the right equipment. Once you find the super-precise miter saw or perfect laser level, you stick with them.

That's something DeBlois Renovate & Remodel knows all about. The Central New York-based company specializes in high-quality home transformations. From large-scale kitchen and bathroom remodels to basement renovations, addition builds and more, the team's professionalism is evident in every project.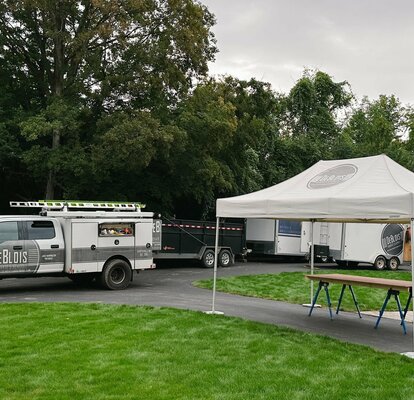 Professional-Grade Work Tents
For DeBlois Renovate & Remodel, the goal is not only a beautiful end result but also a painless process for homeowners. In residential projects especially, excessive timelines, dust, and dirt become wearisome. (These are living spaces after all!) So, DeBlois Renovate & Remodel goes out of its way to prioritize an efficient workflow and clean residences for homeowners.
The crew does as much work as possible outside. They even bring in a landscaping crew at the end to make sure they leave no trace in the yard.
A key element to this thoughtful, efficient approach? Reliable work tents. These allow the team to stay out of the way with plenty of space to cut, assemble, and finish pieces as needed onsite. The canopy tents also allow the team to keep materials stored out of the elements. This way, moisture is not an issue when it comes time to install. No more material under damp tarps!
All the Must-Have Features and More
Before choosing Mastertent, Tim and his crew went through a series of pop-up tents from Coleman, Target, and other inexpensive options. When those didn't meet his needs, Tim considered renting large wedding tents. Ultimately, he decided to do his research and invest in high-quality canopy tents instead.
The first priority was a tent he could count on, rain or shine. Tim wanted something heavy-duty yet sleek and attractive. Because he knew the tents would likely experience wear and tear, replaceable parts were also a priority. He didn't want to purchase a whole new tent if only a single piece needed repair.
Mastertent fit the bill on every account. Plus, Mastertent offered several other features that Tim and his team found useful—like the canopy tent weight system. At most job sites, the DeBlois team sets up its tents on paved driveways. Now, the crew can stabilize the tents wherever they are, even when staking them into the ground isn't possible.

In addition to all the features on his must-have list, Tim also loved that he could customize his Mastertent with the DeBlois Renovate & Remodel logo. Not only do the custom tents look sharp and professional, but they also draw new business. Amy Ross, the company's Director of Operations, credits around fifty percent of their leads to people seeing their branded trucks or the branded tents around town.
Weather-Resistant Tents Make Outdoor Projects Easier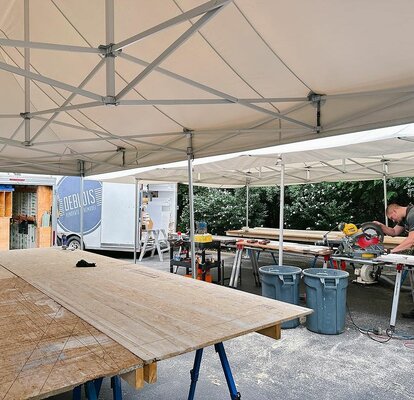 With most of their projects in the Central New York area, weather resistance was also a key selling point for DeBlois Renovate & Remodel. Mastertent offers the crew peace of mind on gusty days. Tested in winds up to 75 miles per hour for material strength, the tents boast a high wind rating. The robust, waterproof fabric also means rain isn't an obstacle to finishing projects on time.
Having sturdy shelter, even on days with less-than-ideal weather, has transformed the way the company works. Jack Harrington, President of DeBlois Renovate & Remodel, called Mastertent a game-changer.
---
Responsive Support Behind Every Mastertent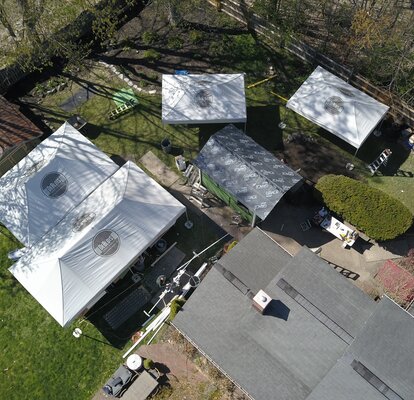 Beyond the product itself, DeBlois Renovate & Remodel has also been happy with Mastertent's service. The support team, they said, has been responsible and helpful, working hard to correct issues. When the DeBlois crew realized their initial tent type wasn't the best fit for their workflow, the Mastertent team helped them get on the right track. Now that they've landed on just the right model and material, the renovation group is not turning back.
"We could not work without our Mastertents and accomplish the same level of efficiency, focus, and performance in our day. I don't know how anyone else works without them!" Tim said.
Whether you're a contractor looking to upgrade your workflow or a renovator wishing you could move the mess outside, Mastertent can help. Our Product Specialists can help you find the equipment you need for a flawless kitchen or bathroom remodel. Contact us to learn more about how to find the right work tent for you.