Celebrate with our Party Canopy Tents
Party canopy tents for special moments and lasting memories.
No matter the occasion, we know that each and every party involves a very special moment in someone's life. All parties whether big or small creates strong emotions and memories for life. Therefore we are pleased to build up these moments with you and equip you with the perfect Mastertent party tent. Our party canopy tent will turn it into a hit. Garden party, company celebration, wedding, baby shower, or birthday party; our range is as diverse as your reasons to celebrate.
With more than 25 years in the party tent business we are experts and promise you the best party tents, manufactured in Europe. Our pop up party canopy tents are easily set up in minutes. They are 100% waterproof, storm- and weather resistant.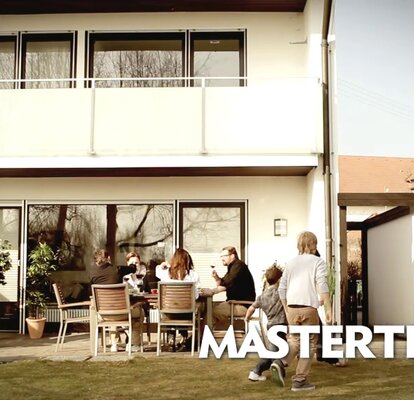 What size party canopy tent do I need?
Firstly ask yourself how many guests you do expect for your party and how much space is available at your location?
Done? Now let's proceed with the magic question - what party canopy tent size do I need: In the left column you can find the number of people, in the middle the appropriate size and in the right column the covered area in square footage. You can click on each of the tent sizes to get more information about the particular tent sizes.
Okay, frankly, listing 12 different sizes cannot make your decision quick and easy. To better support you and to enlighten your imagination, we will present you the following: the classic, our small party tent and the largest one in more detail.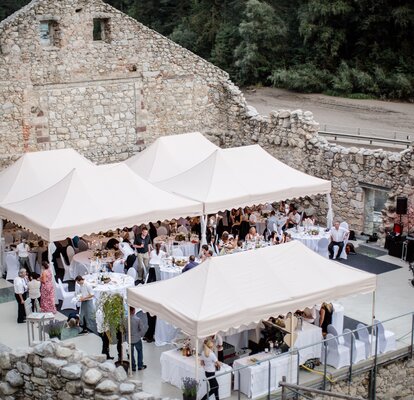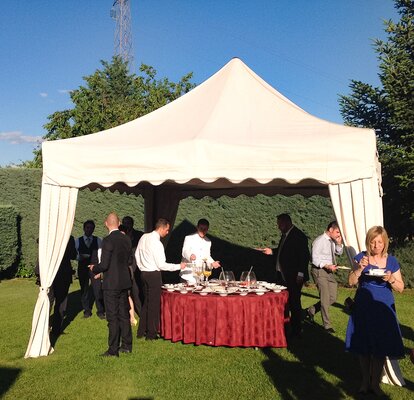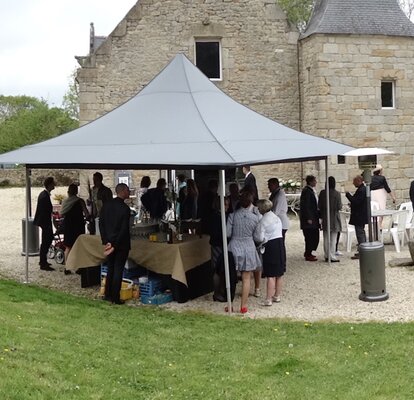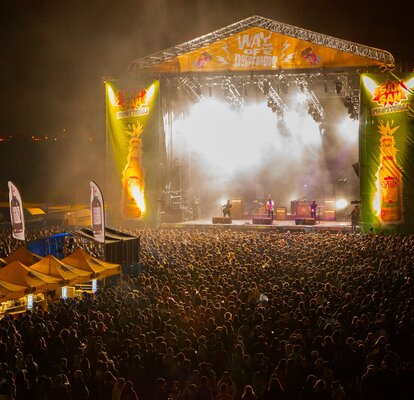 The classic party canopy tent
The 10x10 ft party canopy tent is the classic amongst our tents. With a total area of 9m², it provides standing room for 18 or sitting room for 16 people. It allows diverse equipment options and fits in almost every location. Due to its convenient size, we are convinced that the 10x10 ft party canopy tent will be the hit at your next party and will make you happy for a long time.
Our small party canopy tent
The small party canopy tent 5x5 ft provides standing room for 4 people. Thus it is perfectly suitable to arrange several separate areas – maybe you know that some of your guests are smokers? Mastertent party tents are fire resistant and therefore suitable for a separate smoking room. The small party tent can also be used as a mobile changing room, flexible info or pop-up stand. Consequently, it is the perfect accessory and allows customising your party area even further.
Our bigest party canopy tent
Our biggest party canopy tent offers a sheltered area for 64 people standing and 48 people seated. With 32m² it's definitely worth the investment. It guarantees maximum coverage and assures all guests stay dry and comfortable. With various accessories and customization options, it can be easily adjusted to different occasions. So it is perfect as an elegant wedding party tent or as a rock and roll music tent!
MASTERTENT's vision is not to just equip one single party but to stay a good companion over the years. The party tent company is always striving to build as many special moments with you as possible. Therefore MASTERTENT also has a unique solution for the magic – what size party tent do I need – question: The modular design of the pop up party tents allows easy connection and expansion of different tents. Meaning if you are currently planning a birthday party for approximately 16 to 18 people and decide to buy the 3x3 party tent today, but you would like to use it for your annual company celebration as a commercial tent next year, you can easily buy another Classic, (or also a bigger size) and connect it with your originally purchased party tent.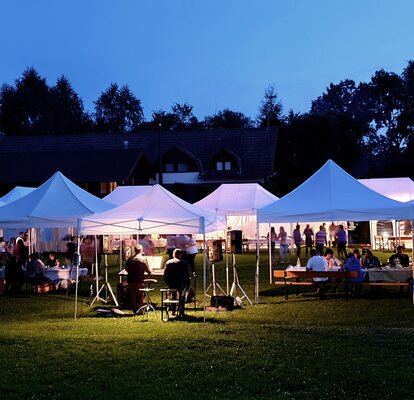 There is no faster way: our easy pop-up party canopy tents
Time is running and guests are on their way, but the party tent assembly has not started yet? No problem for Mastertents' DIY party tents. All of our easy setup party tents can be quickly assembled in 60 seconds, without tools and without any loose parts. To further support you in this process we provide you with simple, quick and easy party tent assembly instructions including detailed descriptions over the various party canopy tent parts.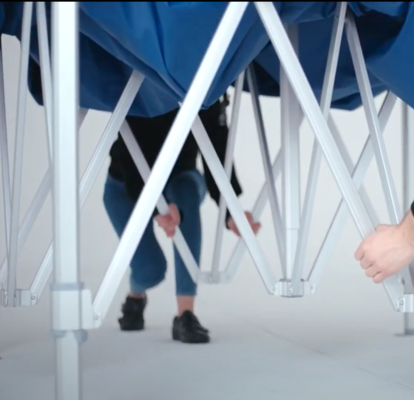 Whether summer or winter – our outdoor party canopy tents always fit
No matter if summer or winter, with Mastertent outdoor party tents you always make the right decision. Why? The 100% waterproof party tents help shield from wind and weather with various accessories. Also on soft ground to guarantee optimal stability for your heavy duty party tents we offer party tents with anchors, consisting of safety straps and pegs.
It's winter and cold outside? To make your outdoor party tent winterproof we recommend party canopy tent walls and a party canopy tent heater, to ensure your guests won't freeze!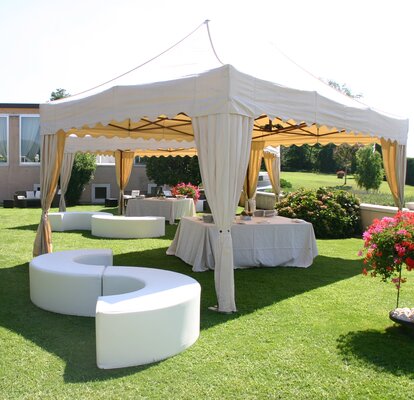 Unique party with our party canopy tent ideas
With Mastertent your party or special occasion will become memorable and guests will be talking about it for a long time. The party tent design is essential for the right vibes and atmosphere. With our party canopy tent ideas and various tent colors, types, and party tent decors your party canopy tent will become a masterpiece. Design your party canopy tent with sides and windows free to your taste with our configurator and make use of our in house design factory to create an extraordinary custom party tent. To enhance the party vibes even further, we recommend selecting the right party tent lighting.
Still looking for some party tent ideas? Check out our blog and get inspired by our stories.
Party canopy tents for rent
Mastertent does not offer any direct party canopy tent rental service, but we always have an open ear for your very special issue. Do not hesitate to contact our personal consultation and bring your matter forward. However, we would like to draw attention to our Series S2, which offers an excellent sturdy and well-constructed solution at a very affordable price.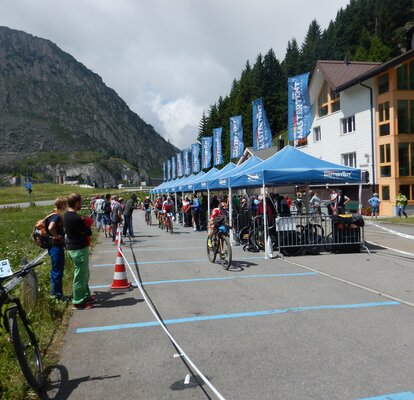 Where to buy a party canopy tent?
Are there any party tents for sale near me? Yes! Part of our philosophy of being the best party tent supplier is to always be close to you and ready to support you. Check out our global partners in more than 25 countries or complete our request form. Whether you're looking for a commercial party tent or party tents to buy or customized party canopy tent packages our staff is always happy to help.