Refreshment Stand Mobile and Sturdy
You are always well-equipped for each event with our mobile and sturdy refreshment stand.
The mobile Mastertent refreshment stand combines the highest quality and best comfort. The sturdy steel structure, the quick assembly and the full-surface personalization options have proven a hit especially among our beverage retailers. We can count not only small local beverage retailers among our customers, but also international beverage companies such as Red Bull, Coca Cola or Bacardi.
Mobile Beverage Stand Scores with Lightness
Once again, Mario attends a well-visited event and has already spotted his favourite location. Quick and easy he brings his mobile beverage stand there and starts with the construction.
Marios' strongest competitor was quite astonished when his Mastertent beverage stand was set up in no more than 15 minutes. Mario was the first to greet the arriving guests in a good mood with a cold drink.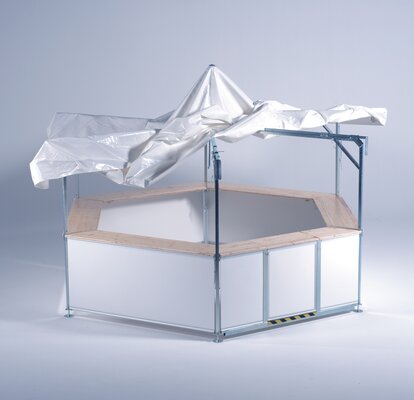 Refreshment Stands in Various Sizes
The mobile refreshment stand is available in three different sizes, namely as a 4-corner, 6-corner or 8-corner pavilion. Regardless of the size of the refreshment stand, they can be assembled in any place in only 10 minutes and without the need for tools.
Printed Refreshment Stands Grab Attention
The option of full-surface personalization of our refreshment stand is another advantage. It can be fully printed on and personalized, so that your own logo is clearly visible and a great advertising impact can be achieved.