Car Gazebo
Create a reliable car shelter with a mobile carport
Garage gazebo for cars of any size. Shelter your vehicle from sun and rain all year round!
Do you have a garage where nothing fits in anymore, because a huge amount of belongings has accumulated over the years? Or do you only have an outdoor parking space but would like to protect your car or motorcycle year-round?
Whatever the case, a car gazebo might be the solution. It is stable, assembled very quickly and no special permissions are needed to place it on private property.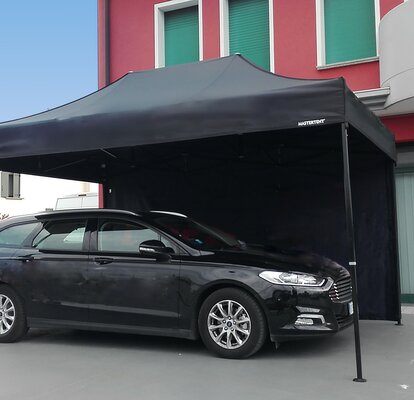 Car Gazebo: Important Features
What are the points to consider when choosing a portable garage? For your car or motorcycle to always be safe your portable garage must be:
Equipped with sidewalls for extra coverage
100% waterproof (no need for water repellents)
100% fireproof
Fully UV resistant
Resistant to moisture, temperature changes, corrosion, mold and rust
Requires little maintenance
Requires no special permissions
Durable
Flexible in use and easily transportable
There are many things that have to be taken into account, this is why it is important to make a well-considered decision.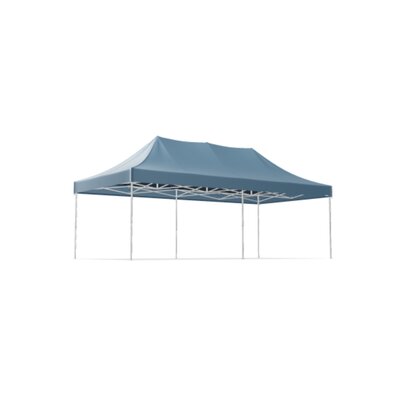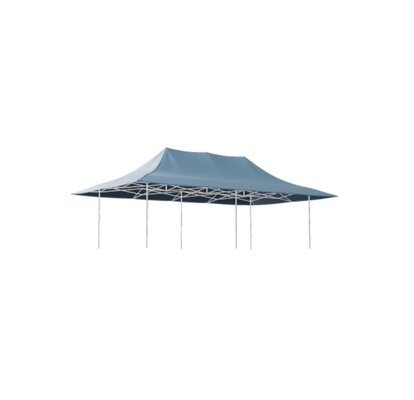 Car Gazebo: Which One to Choose
There are different types of carports; in fact, you can choose to build a garage out of wood, masonry, metal, or use a Mastertent folding gazebo. Let's have a look at the differences together.
Permits required

Maintenance

Removable

Assembly

Autonomous transport

None

Occasional, fast roof cleaning with brush

Yes

60 seconds/
autonomously

Yes

Masonry

Building construction permit granted by a local authority

Occasional cleaning

No

Several weeks + time required for permit/specialised company

No

Wood

Building construction permit granted by a local authority

Annual against mold, pests, corrosion.

No

Several days + time required for permit/specialised company

No

Metal gazebo

Depends on the model

Annual with anti-rust treatment.

Depends on the model

Several days + time required for permit/specialised company

No
A gazebo does not only cost less than all other options compared above, but also has significantly better performance and lower maintenance costs.

In addition, you can decide day by day whether you need to mount all sidewalls or whether the gazebo's roof is sufficient. This will give you maximum flexibility in the type of use.

Folding gazebos are also ideal for those who have a second home. You can always take your mobile carport with you, no matter if your second home is on the countryside, at the beach or in the mountains. Another very convenient option is to buy a car or motorcycle gazebo for your second home, set it up only during the period when it is needed and then take it down at the end of the season.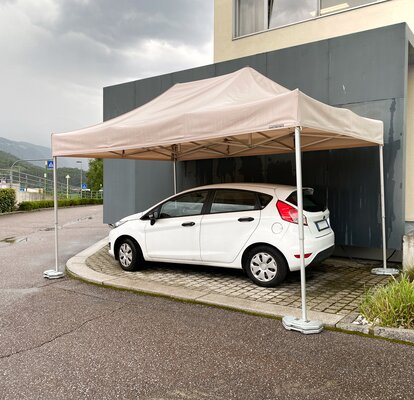 Mobile Carport
Folding gazebos are a very good solution for those looking for a durable and stable car shelter. Thanks to a folding gazebo, no special permits are needed and you avoid sacrificing your outdoor space and spending a lot of money. But what kind of foldable carport should you choose? And of what material?
Frame Structure
Should the structure be in aluminium or steel? This topic is frequently discussed, but the winner is always the same: aluminium. Whether it is a bicycle, a railing for a terrace, or a gazebo, aluminium always ensures:
Greater resistance to temperature changes
Greater resistance to rust and corrosion = thus it is maintenance-free
Less weight for the same stability
In addition, aluminium is 100 % recyclable and the environmental sustainability of a material is becoming more and more important.
Some manufacturers keep on working with iron, because it is easier to work with and cheaper, characteristics that benefit the manufacturer and not the consumer
Roof and Sidewalls
The roof is as important as the structure to ensure the efficiency of a car gazebo. There are mainly three types of gazebo roof materials on the market: Polyester, PVC and Polyethylene. The three materials are very similar. However, we will immediately exclude Polyethylene from the comparison, since it is the cheapest material, it is less durable than the others and not suitable for a garage that needs to withstand varying weather conditions.

Polyester and PVC are waterproof, resistant to weather and chemicals, to UV rays and to temperature changes. However, polyester, which is also used in sportswear, driesmuch faster, it is a material that breathes (despite being waterproof) and it is much more aesthetic, since it looks more like a fabric than a plastic cover.
In light of the various comparisons, we recommend you to protect your car with a durable Pirontex® tent roofwith an aluminium frame structure. If you settle for a rougher look with the same functionality, the PVC is still a viable option.
Waterproof, Windproof and UV-Resistant Gazebo
The material is not the only important thing to consider for your car tent, but so is the manufacturing. To ensure that our Mastertent® folding gazebos can withstand strong winds, we designed ergonomic octagonal aluminium profiles, and tested the stability of our tents in the wind tunnel.

This is not the only measure and the only test we have carried out. To ensure complete waterproofness, we use impregnated threads for water-resistant seams and we test the results by means of the water column test. This test measures how much water a given material can withstand before the first drops penetrate the fabric. In addition, our folding gazebos benefit from an optimal roof tension, which allows water to run off quickly and thus no water pockets can form.
A novelty on the market is the Pirontex® fabric which has surpassed the already excellent results in resistance tests of its predecessor Oxford 500D.

Compare the various fabrics here or request your gazebo now
Moreover, we have designed sidewalls which protect from wind and rain and which can be assembled and disassembled very flexibly.

Portable garages by Mastertent® are also fully fireproof (B, s1/s2, d0 according to EN13501-1), have successfully passed the UV-resistance test (with average UPV values far above the standard of 50) and are TÜV SÜD certified.
With Mastertent your car is safe from any weather.
Can I build a garage without planning permission?
For setting up a Mastertent® folding gazebo in your garden or backyard, you do not need any kind of permission, in fact, they result as mobile structures and not fixed constructions or extensions of living space.

In addition,our portable garages have been statically calculated by engineers and, according to UNI EN 13782, do not require the approval of structural engineers or authorities. As an additional guarantee, all materials used in the production of our folding gazebos are compliant with the REACH regulation.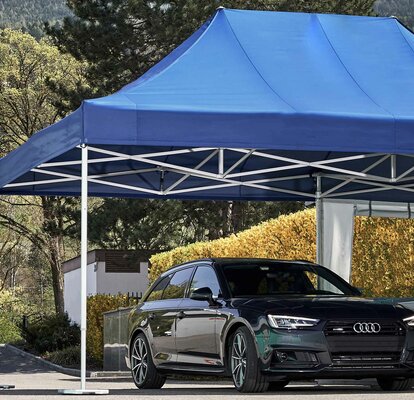 How to build carport and how to choose the right size of a gazebo for your car
Mastertent gazebos can be assembled in only 60 seconds. The assembly is simple, intuitive and requires no skill or knowledge.
The size of your portable garage depends, of course, on the type of car and the space available. In addition, if you want to attach sidewalls, enough space to comfortably get in and out of the car should be calculated. We have prepared an overview of some useful gazebo sizes:
Open garage
(roof only)

Enclosed garage
(roof + 4 sidewalls)

Motorbike

2x2 m

2x2 m

Smart

3x2 m

3x3 m

Multi Utility Vehicle, MPV

4x2 m

4.5x3 m

SUV, pickup, sedan, van

6x3 m (optional awning)

6x3 m

2 cars or MPVs

8x4 m with 2 awnings

Modular system
All our gazebos are modular! In fact, you can join several gazebos together to create the garage tailored to your needs. Rain gutters and connection clamps ensure that your car stays dry and that your car gazebo stands firmly on the ground.
If you still haven't found the right size, we will adapt the gazebo to your space.

Request it now
Car Gazebos by Mastertent®
We at Mastertent® have invested in aluminum processing machinery because we want to offer the best quality possible. This is why you'll have a lifetime warranty against corrosion on aluminum structures.
In addition, if something should break, we offer a reliable and quick repair and replacement service.
Natural disasters? No mobile carport can withstand heavy storms; this is why we at Mastertent offer insurance services for folding gazebos called CARE and CARE+, which will allow you to receive priority repair and replacement service at an extremely advantageous price.
If all the features above still do not convince you, choose a Mastertent garage gazebo simply because it is beautiful and fully customizable, have fun matching the colour of the garage to that of your car.

For parties and special occasions no one forbids you from turning your garage into a veranda where you can have a good time with friends, even during the hottest hours.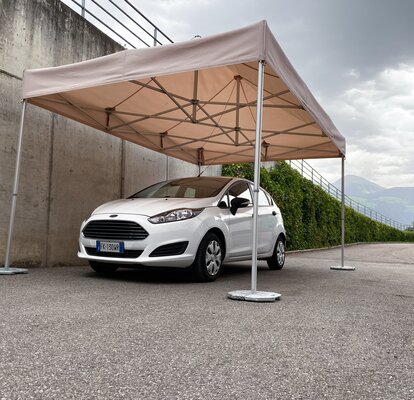 The right maintenance for your car gazebo in snowy weather
Another advantage of our Mastertent car tent is that in case of heavy snowfall it can be disassembled quickly and effortlessly!

Thanks to the intelligent mechanism of Mastertent gazebos, in the event of heavy snowfall, the tent can be dismantled in less than a minute to prevent too much weight from accumulating above the roof, risking the structure from breaking. Once the weather situation has improved, you can reassemble your car shelter just as quickly.
With other types of fixed gazebos or carports you risk the weight of the snow causing them to collapse and there is nothing you can do about it.
In case of light snowfall no maintenance is necessary, however, it is recommended that you clear the roof of snow with a common broom.