A Fairytale
Wedding
About tying the knot and how Mastertent makes dreams come true.
This year, the offspring of an Austrian industrialist family said "yes" on June the 15th and we said "yes" to the bridal couple's wishes. Read how Mastertent makes dreams come true.
The beautiful gardens of the Belvedere Palace in Vienna can hardly be surpassed in romance and it was a long-awaited wish of bride and groom to spend the most beautiful day of their lives there. What was still missing? A wedding pavilion that makes the dream perfect and enchanting.
Yes, We Accept the Challenge.
On the 2nd of May, our Austrian branch received a very special request: a couple wanted a wedding pavilion with a length of 10 meters. A maximum length of 8 meters is available in the standard assortment and thanks to their modular design, all Mastertent folding pavilions can be flexibly combined with each other. With the desired length of 10 meters, it would have been possible to combine an 8x4 m and a 2x4 m tent. But this suggestion was out of question for the couple. They wanted a single 10 meter long, symmetrical and elegant wedding pavilion. A special design was needed.
On 3rd of May Mastertent said "I do". In the headquarters' design studio they immediately started developing the tent. Detailed drawings, calculations and planning were carried out. The young bridal couple accepted our offer and the order was placed the same day. Immediately afterwards, the production staff eagerly began processing the aluminum. The experienced seamstresses skilfully sewed the tent roof from ecru-coloured fabrics.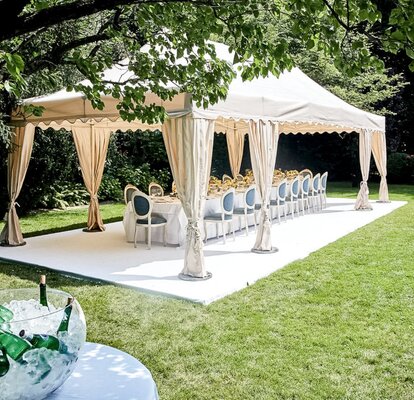 After a final quality check, we were sure that nothing could go wrong on the big day. Much faster than expected, the wedding pavilion arrived in Vienna. The dream of the extra-large wedding pavilion could thus be fulfilled.
Yes, I Do - A Fairytale Wedding.
The couple wished for a fairytale wedding. Preparations began months before. The couple planned everything down to the last detail. Excited and full of anticipation they counted the days. On June 15th the time had finally come. They finally tied the knot. After the wedding ceremony in the castle, the 18-headed wedding party gathered in the garden. There was a fairytale-like scenery: perfectly mown lawn, pale blue sky, bright sunshine and in the middle of everything a wedding pavilion. The ecru-colored pavilion with its scalloped valances and gathered corner curtains enchanted the guests. Everything was perfect. The dream came true.
Will the couple convert the pavilion into a party tent after the wedding and still use it for family celebrations at home? We don't know, but thank you for the trust and the challenge.
Dear bridal couple, thank you so much for letting us be part of your beautiful wedding! We wish you all the happiness in the world and a fairytale ending.
Do you also have a special wish? We say "I do" to your challenge!