How Do I Clean My Party Tent?
Simply clean the tent yourself.
When your party tent is frequently used outdoors or set up under trees or shrubs it can collect a lot of dirt.
All our folding tents have been designed in a way that they can be set up or taken down in a few seconds. We recommend that our tents are stored away properly after use in order to protect them.
4 Steps for a Gentle Tent Cleaning
Remove leaves from the folding tent
Clean the folding tent with lukewarm water and mild detergent
Let the folding tent dry out completely
Pack and store the folding tent properly
Your Tent is Dirty? ...How to Clean it Properly.
The party tent can be cleaned regularly with lukewarm water, or with the use of mild detergents to help avoid long term damage to the fabric. The fabric cannot be machine washed! This excessive washing can damage the water resistance and the fire retardent coating.
Cleaning with Lukewarm Water and a soft Cloth or Sponge
Firstly rince the fabric of the roof and sidewalls with tap water and without using a sharp jet. Make sure the water temperature does not exceed 30 degrees. Once the entire fabric is rinced, the surface of the tent can be wiped with a soft cloth or sponge using lukewarm water. Please don't use brushes or apply too much pressure while wiping.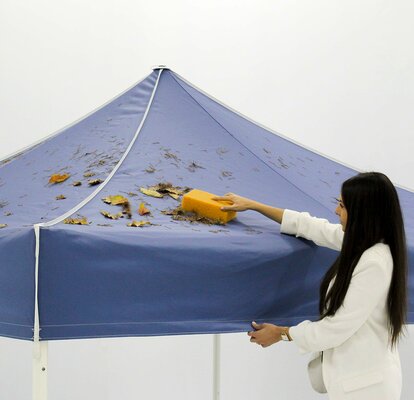 Use of mild Detergents
If you cannot clean the tent with pure tap water then you can try cleaning it with a mild detergent. The best thing to do is to use neutral soap, preferably a curd soap, but never use chemical detergents. When using the soap, apply it with a soft sponge or cloth and don't use too much pressure.
Please remember that you follow these tips at your own risk as a warranty cannot be provided if the detergent causes damage or is not applied correctly.
Let it Dry Sufficiently
After cleaning the tent, the fabric must be left to dry out completely. This avoids any formation of mould on the fabric. It would be best to let the tent dry in a well ventilated place and afterwards store it away properly.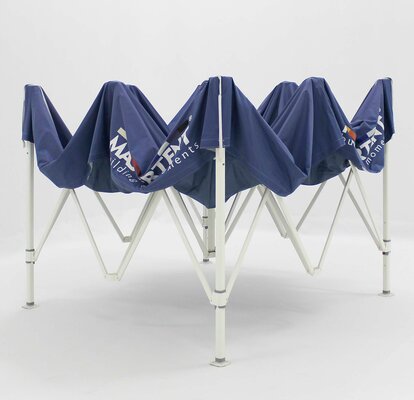 Store it Dry
Store the tent in a dry space. Make certain that the tent is not subjected to any load and that the weight is evenly distributed on all four or six corner supports.