How to Clean
Canopy Tents
Do's and Dont's: How to Clean Your Canopy Tent
All our folding tents have been designed in a way that they can be set up or taken down in a few seconds. We recommend that our tents are stored away properly after use in order to protect them.
Here are four easy steps to properly clean your canopy tent
Clear general debris.
Gently wash.
Dry completely.
Properly pack and store.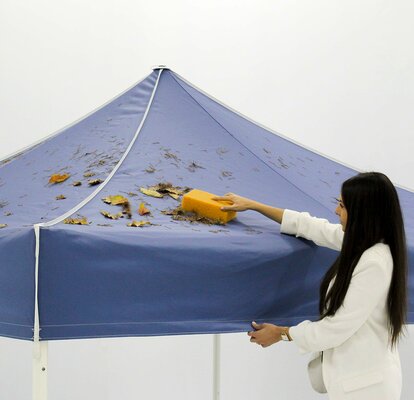 1) Clean your canopy tent: clear general debris.
With your roof still secured to your tent frame, gently brush away any leaves, loose dirt or general debris that's accumulated on your tent's fabric roof.
2) Clean your canopy tent: Gently wash.
Start by rinsing the fabric of the roof and sidewalls with water. Avoid using high-pressure washing or sharp hose jets. If your tent cannot be cleaned with water alone, use a mild detergent or spray cleaner to wash the remaining dirt from your tent. We recommend using a soft cloth or sponge to protect the wellbeing of your tent's waterproof and fire-retardant protective coatings. Rinse with lukewarm water. Do not machine wash your tent roof and avoid bleaching products.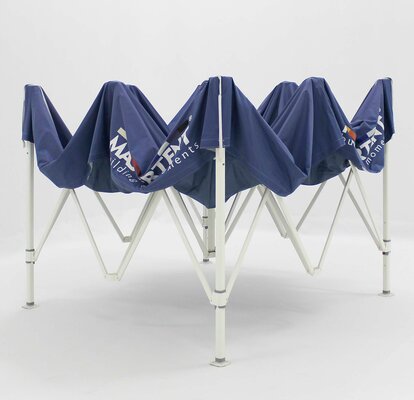 3) Dry your canopy tent completely.
Without removing your roof from its frame, allow your freshly-cleaned canopy tent to dry completely to prevent any mold growth from packed-away moisture. Your tent frame serves as a perfect drying rack in a well-ventilated area.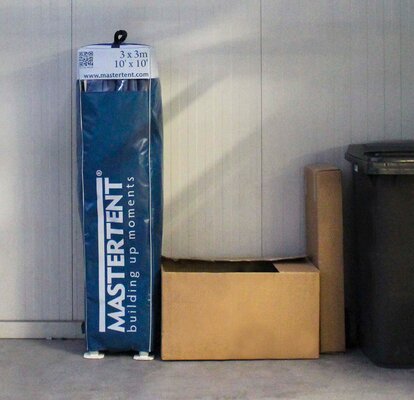 4) Properly pack and store your clean canopy tent.
Properly pack away your tent in its PVC transport bag in a secure, dry place until your next big event!
Reach out to our customer care team with any questions.
At Mastertent, we pride ourselves on our lifetime customer care. Always feel free to reach out to a member of our team with any questions about the use or care of your Mastertent products.