Go-To-Market Strategy
5 Tips for an Ideal Market Tent Setup
Outdoor markets can provide a perfect venue to showcase your products and create authentic customer connections. Nothing compares to the contagious energy and excitement a market offers. At the same time, a market environment requires flexibility and adaptability—even more so than in a traditional storefront. Thoughtful preparation, especially in a market tent setup, is key to a great experience. Whether you're a first-time market vendor or you're just looking to improve your "go-to-market strategy," these five tips can set you up for success.

1. Learn the rules of the market.
While it may not be the most thrilling part of preparing for a market, knowing the do's and don'ts wherever you're selling is a must. Often, local ordinances restrict the sale of certain foods or beverages. Some markets also have their own health and safety rules. For example, many farmer's markets require tents to be secured with weights or ground anchors to prevent accidents.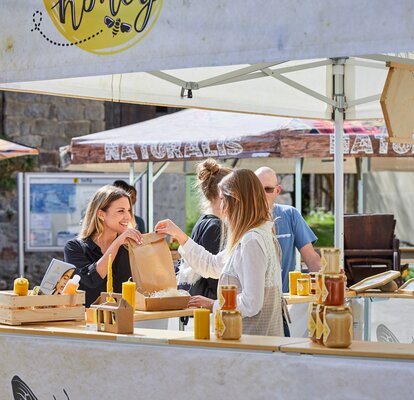 Fire safety is also a common consideration for market tents. Many market organizers require that vendor structures meet specific standards to provide protection against unexpected fire accidents. That's why our certified fire-retardant market tents are a popular market tent choice. Nothing will kill your market experience faster than getting fined or banned from selling, so always be sure to do your research well in advance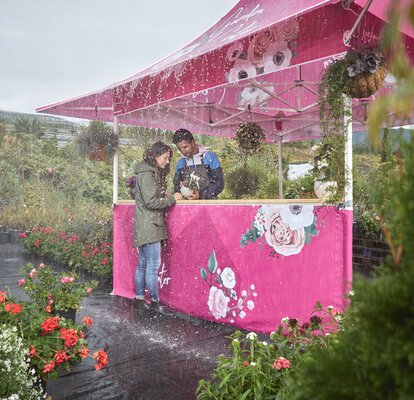 2. Before you arrive, check the weather forecast. Then, check again.
Weather can make or break your market day if you're not prepared. For the most flexibility, opt for a weather-tough market tent that protects you and your products from rain and sun. With the right equipment, you'll be prepared no matter what the forecast throws at you.
Our canopy tents are a great choice as we design each to withstand the elements. Here's what one Mastertent customer, Fran Ackley, had to say about them.
We have used our new Mastertent twice and have had multiple inquiries from other vendors as to where we got our tent! The stability, durability, and high quality are evident. My husband and I easily set the tent up in a short amount of time. We had a lot of morning dew and light showers one day but our inventory stayed dry.
Consider choosing a canopy tent that's 100% waterproof and tested in high winds. A market tent with smart design features, like our automatic awnings, can also provide extended weather coverage beyond the tent footprint and added comfort for your customers.
---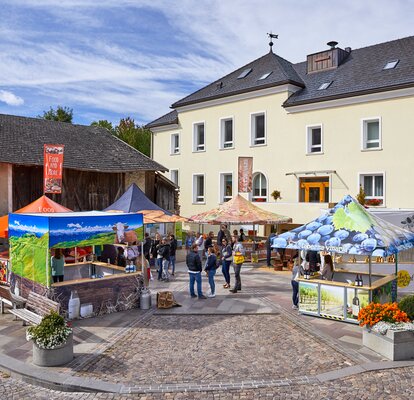 3. Make sure your market tent can accommodate your team and inventory.
Before arriving at the market, be sure to determine how much space you'll need. A tent that's too big will feel cavernous and detract attention from your goods. On the other hand, a tent that's too small could feel cramped and limit the amount of inventory you can bring and display.
A 10x10 ft canopy tent is a popular choice for markets since many markets require vendor displays to fit into 100 square feet or less. Even smaller sizes, such as our 10x6.5 ft or even 6.5x6.5 ft market tents are just right to accommodate many vendors. With 12 canopy sizes available, we offer a range of options for everyone.
If you're new to markets, it can be helpful to err on the smaller side first. Limit your products to a few great choices rather than overwhelming customers with a long list of options. A carefully curated menu of products will also mean less complexity and hassle for you!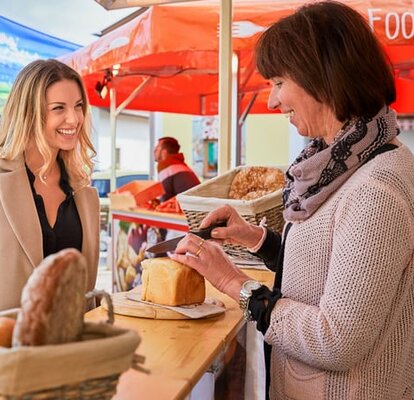 4. Consider how your customers will interact with you and your products.
Often, vendors focus on the "what" but neglect to think through the "how" before arriving at the market. Thinking through your ideal shopping and payment flow is particularly important. For example, how will your customers pay for your goods? Will you have a designated area of your booth for payment? If you plan to use a digital register or cash drawer, a market tent with a smooth and stable surface, like our wooden counters, can provide a smooth and easy checkout flow.

You'll also need to consider how you will display products and store back stock. Cleverly designed half-height walls can provide a great solution if you want to hide storage and still provide some visibility for friendly conversation and displays. For detailed products and dimmer days or nights, portable lighting options, like canopy tent light kits, offer the perfect solution to elevate your market tent setup.
---
5. Differentiate your brand from other vendors.
Beyond function, your market tent should also make an eye-catching statement. By nature, you'll be among a crowd of other vendors in a market setting, but that doesn't mean you have to blend in. For a simple way to become more memorable, choose a tent in a color that represents your brand. Alternatively, work with one of our Experts to design a custom market tent, complete with your branding, beautiful sublimation printing, or unique shapes and sizes.
With any market, a little planning and preparation go a long way. A thoughtful market tent setup can make your market experience smooth, stress-free, and even fun! Luckily, finding a market tent that's functional and beautiful is easy. We designed our market tent options with you and your business in mind.
Need help deciding which market tent is right for you? Our Product Specialists would be happy to help you weigh your options or work with you to design a custom market tent that fits your unique needs. Contact us to begin a conversation.