Aluminum vs Steel Canopy Tents
The Mastertent comparison and why we rely on aluminum gazebos. 
Learn more about the advantages of aluminum gazebos and why you should choose an aluminium gazebo as well.
Weight, stability, weather exposure and fields of application - we take a critical eye on all factors!
Are aluminum gazebos and steel gazebos corrosion resistant?
Aluminum gazebos are naturally corrosion resistant. Steel gazebos aren't.
You've heard that before? But you don't know what it is about exactly? We are happy to help with the details: When metals are exposed to oxygen, they oxidize. Unlike steel, the oxide layer on aluminium however only grows by approximately 0.5 mm. It thus forms a protective layer by its own. This prevents rust and ensures a corrosion-resistant aluminum gazebo.
Why is this beneficial for you and your aluminum gazebo?
You don't have to worry about rust protection because your aluminum gazebo protects itself against external conditions. The best? Even small scratches do not bother your aluminum canopy, because the protective oxide layer can renews itself when penetrated.
On the contrary, a steel gazebo is extremely rust-sensitive. Even slightly increased air humidity is sufficient to accelerate the corrosion process of steel gazebos. Did the vendor of your steel canopy state that steel gazebos are as corrosion-resistant as aluminum gazebos, thanks to their powder coating treatment? Then we have bad news for you: Even the most minor damages to the coating can cause rust formation on steel gazebos.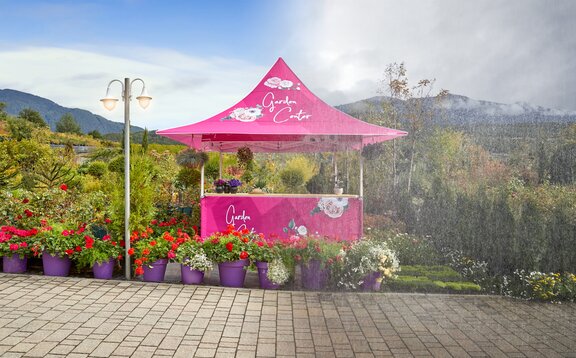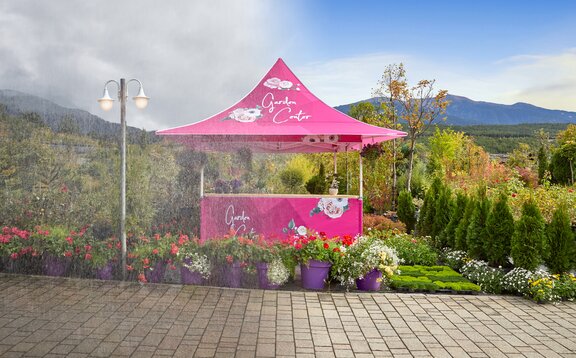 The Mastertent aluminum gazebo's home is outside.
Whether by the sea or in the countryside - dangers for steel gazebos are lurking anywhere. Aluminum gazebos, conversely, withstand changing environmental influences much better.
Whereby, the popularity of aluminum garden gazebos is continuously rising. In contrast to garden gazebos made of steel, aluminium garden gazebos are generally better suitable for longer operating times. Hence, your aluminum garden gazebo protects you from sun and rain throughout all seasons.
Accordingly, our waterproof aluminum gazebos convince in contrast to steel gazebos with excellent weather resistance.
Steel or aluminum gazebos - The scale test.
Aluminum belongs to the group of the lightweight metals. Compared to steel, aluminum only weighs a third. This makes gazebos made of aluminum significantly lighter than gazebos out of steel.
This represents a substantial added value, especially for the requirements for foldable aluminum gazebos. As a result, foldable aluminum gazebos can thus be transported from A to B in a shorter time and with less effort. The lighter weight of the aluminum pavilions also facilitates frequent assembly and dismantling of the gazebos. Aluminum gazebos are therefore the unbeaten number 1, especially for use at trade fairs and markets.
Simply flexible: The form-stability of aluminum gazebos
Another key factor in favour of aluminum as a construction material is its high form-stability.
Why is this property important for you?
The excellent formability of the folding pavilion aluminum frames enables us to take into account any special wishes of our customers and to make an aluminum gazebos to measure.
The processing possibilities of steel are limited depending on the alloy. They do not or only rarely meet the high form-stability of the aluminum gazebos.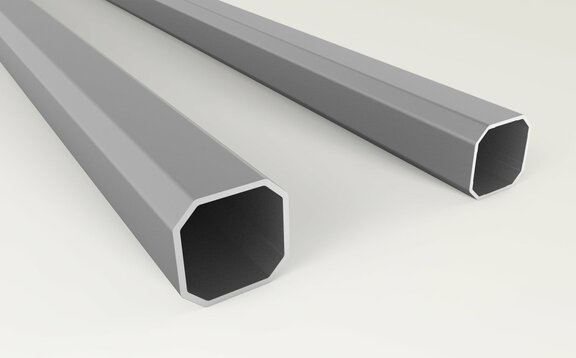 Aluminum gazebo recycling - because Mastertent thinks ahead.
The industrial metal aluminum is 100% recyclable. Today, aluminum recycling is playing an increasingly important role worldwide. We at Mastertent are constantly striving for a better future. This is why the recycling efficiency of our raw materials is fundamental for us.
How does that affect you?
Maybe your next chocolate wrapping paper is made out of our recycled aluminum.
5 reasons why Mastertent relies on aluminum gazebos:
To summarise, we would like to recall the 5 reasons why we at Mastertent rely on aluminum gazebos.
Aluminum gazebos are corrosion resistant.
Aluminum gazebos are ideal for outside use.
Aluminum gazebos are three times lighter than steel gazebos.
The high form-stability enables the production of custom-made aluminum gazebos.
Aluminum gazebos are 100% recyclable.
The Mastertent aluminum gazebo 10x10 ft