Ready for your Restaurant Reopening?
Comply with reopening regulations and maximize your business with smart mobile solutions from Mastertent.
Running a business has always required flexibility and innovation, but in today's climate, mobility has become more important than ever.
Our outdoor dining canopies, restaurant partitions, and other COVID-19 solutions will equip you to meet new health and safety restrictions in your space like preventative screenings and social distancing while maximizing your space and resources. A great combination of function and flair, Mastertent products can be personalized and printed with your branding to create a product for your business to use for years to come.
Let's make the most of your restaurant reopening and get your business back to business! Read on and find out what your restaurant reopening could look like with our restaurant partitions and outdoor dining canopies.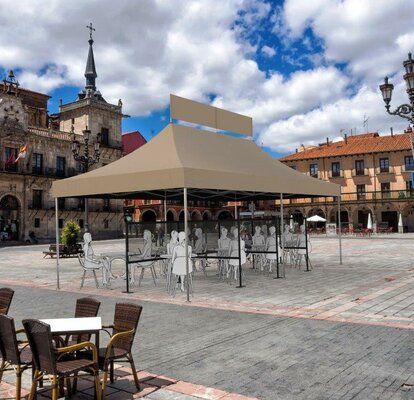 Reopening Your Restaurant | New Regulations and Obstacles
Creating a safer workplace for customer and employee interactions.
Restaurants across the country are reopening with limited capacity, PPE equipped and social distancing measures in place. Many business owners have turned to the outdoors to create much-needed, additional usable dining space - turning parking lots and vacant streets into opportunities for outdoor dining spaces and additional seating. For those stuck inside, businesses can set up so-called "barriers" or restaurant partitions to give guests additional security or create informational signage.
Restaurant Partitions to Maximize Your Reopening
Common ways to use your restaurant partitions to quickly and easily get back to business:
Install barriers between tables and seated groups
Create dividing walls around your outdoor dining space.
Print informational signage on social distancing measures, restaurant advertising, or menus
Mastertent mobile restaurant partitions consist of aluminum poles and fabric panels, which can be combined according to your spatial conditions. Printed styles with information, logos, or photo graphics are available as well as transparent window restaurant partitions for open sightlines.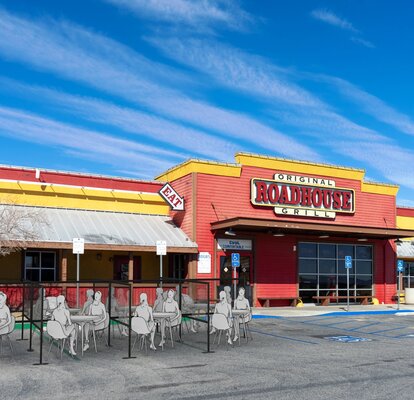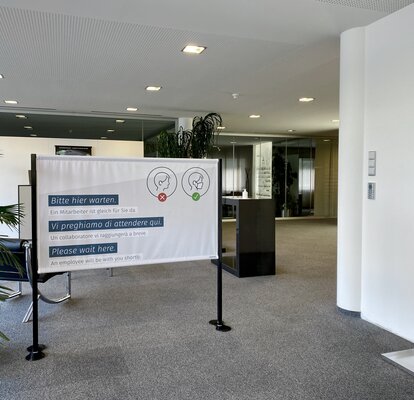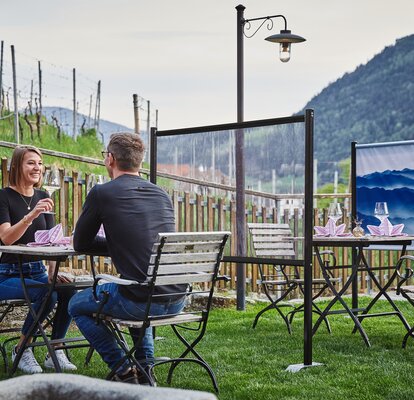 Outdoor Dining Canopies – No Matter the Weather!
Don't add the weather to your current list of concerns when considering outdoor dining. Our canopy tents are 100% waterproof and wind-resistant up to wind speeds of 75 mph. Moreover, they are set up within 60 seconds. You and your staff can quickly set your outdoor canopies up when the weather turns sour or can rely on your tents to stand strong throughout your day.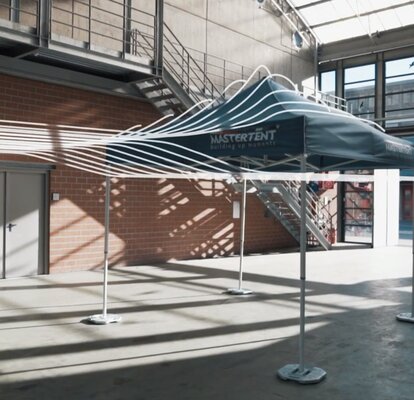 Customize Your Outdoor Dining Canopy
Be inspired, get colorful! We carry 12 standard roof fabric colors and 9 amazing frame colors to customize your outdoor canopy dining to fit seamlessly into your restaurant design.
Great-looking printing options. Add logos, images, and graphics for an even more inviting appearance for an outdoor dining space your guests will remember.
5 signature roof styles. Choose between pagoda, awning, square, royal, or classic canopy roof styles to bring even more function and flair to your outdoor canopy dining area.
Find the Right Size for Your Outdoor Dining Space
Get to know your area's regulations and determine the different size restrictions that must be followed. Think about how many guests and tables you would ideally like to try and seat. Make an impact with your outdoor dining space opportunity and think big! We at Mastertent offer you a range of 12 sizes, including expansive tent sizes like our 17x17 ft, 13x13ft, or the 26x13 ft tent for maximum covered dining space.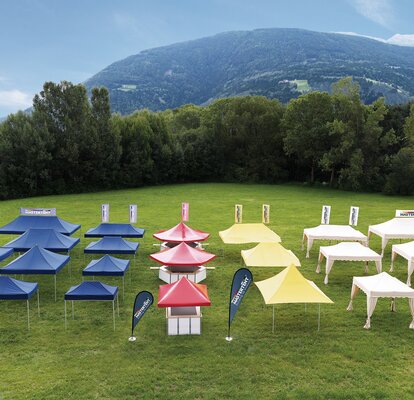 Looking for something different? Thinking outside the box?
Create a Multi-Tent System. All our tents can be connected to expand your coverage and to ensure the right fit for your outdoor dining canopy.
Craft a Custom-made Tent Size. Do you have completely outside-the-tent ideas for your outdoor canopy dining? Just contact our experts. They are ready to help with any request.
Take Your Outdoor Dining Space to the Next Level! | Smart Accessories
Let there be light. Keep your tables open after dark or create a relaxed and romantic atmosphere with our easily attached lighting systems.
Raise banners and flags. Are you striving for more visibility, do you want to convince with compelling advertising messages or are informative imprints your top priority? Choose peak flags, corner flags, or tear-drop flags, and achieve your goals. However, you can also print your restaurant partitions and follow your aims with them.
Add stability. Make sure that your outdoor canopy tent stays at the ground using additional base plates or tensioning straps.
Converting Your Restaurant Partitions & Outdoor Dining Canopy for Long-Term Use
Our current climate is full of uncertainty – we can't say for sure what will follow as we reopen our businesses and try to continue on with our everyday lives. Versatility and flexibility will be incredibly important moving forward. Your restaurant partitions and outdoor dining canopies can be easily converted and used for lots of other application types.
Restaurant partitions: Swap out your printed fabric panels for seasonal messaging, advertising, outdoor signage, etc.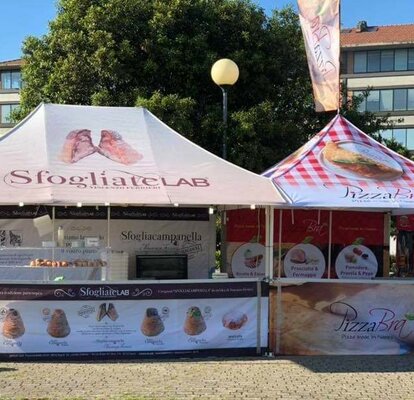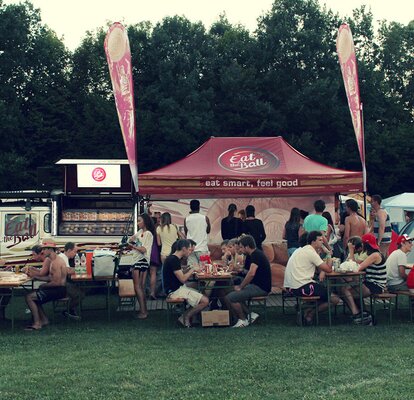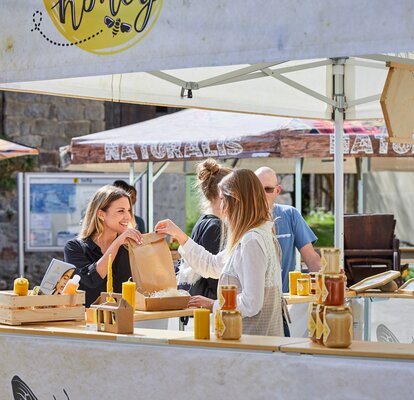 So, what are you waiting for, make use of the new regulations and expand your outdoor dining space! Call us directly or request a quote. We are always happy to help.