The Future of Brand Promotion
Rethinking the Way You Use Your Trade Show Tent
It's no secret that the business world is constantly changing. From global events, like the COVID-19 pandemic, to developments in technology or the economy, the best practices of brand promotion change just like the world around it. Digital marketing mediums of course have an important role to play in this dynamic context, but there's no question that face-to-face marketing still has its place. Now, more than ever, brands have an opportunity to think differently—and smarter—about experiential marketing.

Do Trade Shows Still Matter?
After a couple of years long hiatus, trade shows are back, and they don't appear to be going anywhere. In fact, by 2024, experts expect in-person marketing events to rebound fully to pre-pandemic levels.1 Even though numbers aren't quite what they used to be yet, some brands have noticed a higher percentage of quality leads among attendees, suggesting that those who show up to in-person events have a higher intent to purchase.2

So what does this mean for brands? It's time to brush the dust off your trade show routine and evaluate what you need to make a strong impact in person. (No more hiding behind your video filters and digital backgrounds!) Chances are, the last few years have changed your business in meaningful ways. So, take this opportunity to update your trade show setup, too. An eye-catching, professional trade show display goes a long way toward making your investments in brand activation count.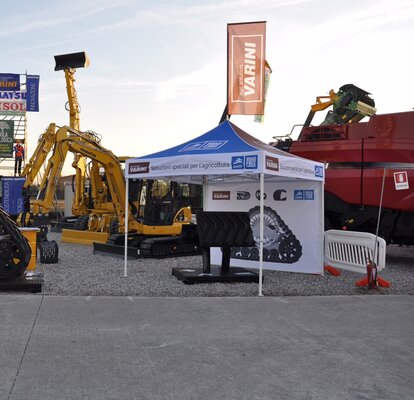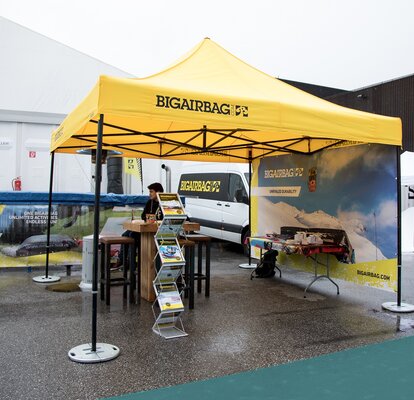 The best trade show tents combine craftsmanship and ease of use with eye-catching design. Our customers love that they can choose from 12 different fabric colors, custom printing options, and convenient accessories to create displays that make an impact. Of course, no amount of color and customization can hide poor quality. A strong first impression starts with choosing a high-quality tent. Durable, well-designed, and customizable, Mastertent is an obvious trade show tent choice.
Why Brands Should Consider a Mobile Approach
Digital marketing has long operated out of the premise that the best place to reach your customers is right where they are, whether that's online, in an app, or in their email inboxes. Who's to say the same principle can't be applied to in-person marketing, too? While trade shows have their place, brands also have an opportunity to meet customers on their own, familiar turf. Increasingly, mobile trade shows—that is, going to your prospect's campus or town instead of luring them to you—are becoming a preferred brand activation tactic.

Even more than for traditional trade shows, convenience matters for a mobile approach. If you're the main event, with no buffer of other vendors, you're likely to attract attention from the moment you arrive. A quick and easy setup will help you maximize facetime with your potential customers. Our canopy tents offer wheeled transport bags and tool-free assembly, so your customers will never see you break a sweat. Even accessories, like sidewalls and wooden counters, seamlessly attach to your Mastertent in a matter of seconds.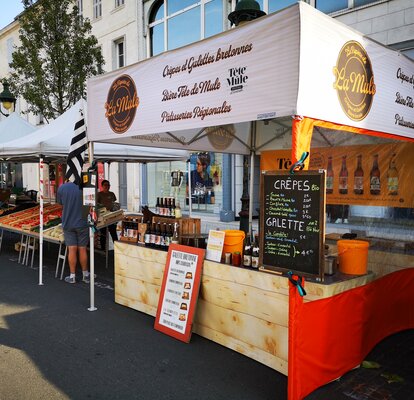 Making an Impact Wherever You Are
The best approach to in-person marketing is not a matter of either/or, but both/and.
Whether you're vying for attention on a packed trade show floor or a prospect's parking lot, the same key principles apply. Consider extending the use of your trade show setup by investing in equipment that endures weather and makes a statement, no matter the venue. A 100% waterproof and fire-rated option, like our canopy tents, is a great option to ensure you'll be ready to meet safety requirements and stay dry, whether you're indoors or outside.
Ultimately, your goal should be to create an experience for your prospects. (After all, it's called experiential marketing for a reason!) To that end, our tents can be customized with accessories like half sidewalls, awnings, unique roof shapes, and flags to help you create a trade show tent that's memorable and immersive. For an even more curated look, our in-house manufacturing team can work with you to develop a custom trade show tent, with the sizing, tent configurations, and vibrant printing you need to make your tent unique to your brand.