How to calculate the right tent size
Find out how to choose the right gazebo size for your next event.
How big should a folding gazebo for 40 people be? Or for 50 people? There is a simple calculation for this!
Especially for big events it is important to plan everything well to offer all visitors enough space under a protective folding gazebo.
But you do not know how big your folding gazebo should be? Don't worry, we will help you! In the following paragraphs we will explain what should be considered when planning an event and how you can determine the right tent size based on the number of visitors.

Let's find the answers to the following questions:
Let's start planning!
How many guests are expected?
How many guests will be attending your event? This is, of course, one of the most important questions you need to ask yourself. Without this information you can not start planning your event. Will it be a birthday party with just a few people, a well-attended wedding or a really big event with lots of guests? Of course, there is a perfect tent solution for everything - no matter how many guests you are going to invite.
How much space is available?
Your folding gazebo should not be too big, neither too small, so that the space available can be used as efficiently as possible. So: Define the area available.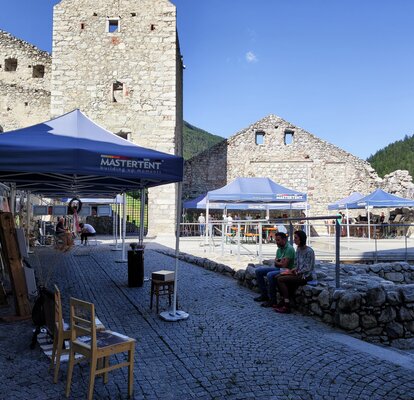 How will the folding gazebo be used?
This is another important point that needs to be considered. Do you want to cook and eat under the folding gazebo? Or do you also want to offer space for dancing? Should there be room for a band or a DJ underneath it? Questions about questions, but you should have a clear idea of how you want to use the folding gazebo, because its application possibilities are many! For this reason, don't forget to calculate space for tables and benches, a stage, a bar, a buffet or a dance floor.
How many people fit in a folding tent?
Once you have answered the questions above, you can easily calculate how big your folding gazebo needs to be. To calculate the space your guest will require, simply multiply the square meters per person by the number of visitors:
0.5 m2 per person standing, for example at high tables
0.5 m2 per person on a dance floor
0.8 m2 per person seated at a beer garden table set
1,2 m2 per person seated at a rectangular table
1.5 - 2 m2 per person seated at a round table
0.7 m2 per person in case of rows of chairs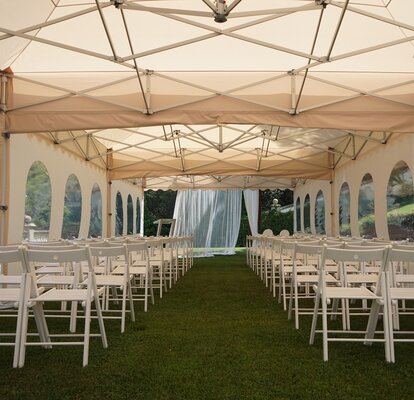 What is the right tent size for your event?
To make it even easier for you, we have already made some calculations.
Number of visitors

Space required when
standing

Space required when
sitting*

Suitable tent size

15

7.5 m2
12 m2
3x3 m, 4x2 m, 4.5x3 m
20
10 m2
16 m2
4.5x3 m, 4x4 m
25
12,5 m2
20 m2
4,5x3 m, 4x4 m, 6x3 m, 6x4 m
30
15 m2
24 m2
4x4 m, 6x3 m, 6x4 m, 5x5 m
40
20 m2
32 m2
5x5 m, 6x4 m, 8x4 m
50
25 m2
40 m2
8x4 m and larger
*In our calculation example, we have calculated the space required by guests when sitting on traditional beer garden table sets.