Waterproof gazebo for outdoor use
Our 100% Waterproof Canopies - the best for outdoor use
Which properties characterise the waterproofness of a gazebo? What should be considered when buying one?
We all know it: The event has been planned for weeks, the guests have been invited and all preparations have been made. And suddenly the weather forecast changes from sun to rain. To ensure that your event doesn't fall through, you should make sure that your folding gazebo is waterproof and has a high water column.
3 features for waterproof folding gazebos
We recommend you to pay attention to the following 3 features when buying a waterproof gazebo:
The folding gazebo is waterproof, not water-repellent
The folding gazebo has waterproof seams
General weather resistance: qualitative folding gazebos are not only 100% waterproof, but they also have UV protection and are particularly stable in windy conditions.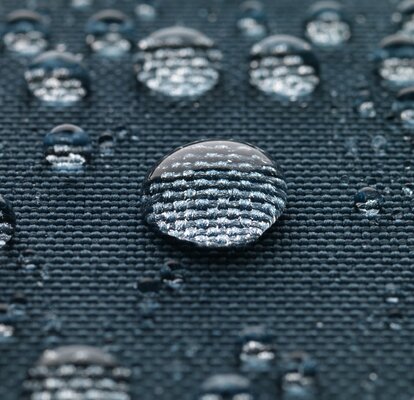 Mastertent's folding gazebos are all 100% waterproof. The water column values are between 1,600 and 2,000 mm. Of course, all seams are finished with an impregnated thread which seals the holes in the fabric generated by the sewing. This means that no water can come through! In addition, you benefit from our optimal roof tensioning, which ensures that the water runs off quickly and no water pockets can form.
Waterproof vs. water-repellent canopies
When looking for the right folding gazebo, you have certainly come across these terms. And probably you have asked yourself what the difference is. Here we explain why water-repellent is not enough and why usually only renowned manufacturers have waterproof folding gazebos in their range:
To make sure that you and your guests won't get wet feet, we recommend that you always look for waterproof materials. Especially when buying cheap folding gazebos on the internet or in hardware stores, dealers sometimes mislead buyers with the description "water-repellent".
Water-repellent: On water-repellent materials, water drips off the surface. However, the fabric can only withstand a small amount of rain. The first drops can seep through after only a short time.
Waterproof: Waterproof materials are woven so tightly that water can only penetrate with difficulty. Therefore, a waterproof material provides a completely tight barrier against water.
When can a folding gazebo be considered waterproof?
For the definition of "waterproof gazebos" we refer to the so-called water column: it is the unit of measurement of waterproofness. According to the European standard EN 343:2003 ("Protective clothing against rain"), class 2, textiles are considered waterproof if they have a water column of 800 mm or more. According to class 3, textiles of 1,300 mm or more are waterproof. The weak point of any folding gazebo are the seams, which is why you should make sure that the product has an impregnated thread when making your purchase.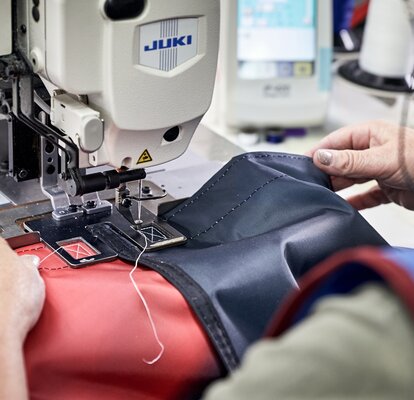 What is the hydrostatic water column?
The hydrostatic water column indicates how waterproof a material is. This water column value is determined by a test in which the material's surface is exposed to water pressure, i.e. a cylinder is placed on a piece of fabric and is then slowly filled with water. The water pressure starts at zero and increases by 10 mm per second. As soon as the first drops penetrate the fabric, the test ends and the value determined is its water column value.
A short example: a fabric with a water column of 1,000 mm withstands the pressure of a 1 metre high water column.
The higher the water column value, the more waterproof the material.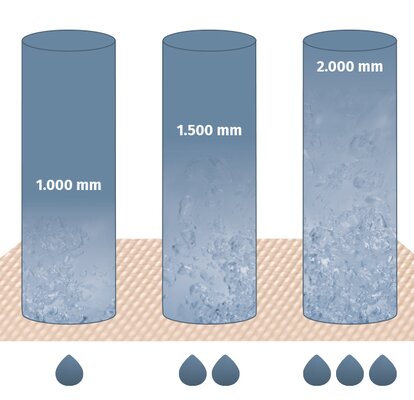 Waterproof gazebos put to the test
Because we care about our customers, we pay special attention to the quality of the materials we use. To ensure that you don't get wet under your Mastertent folding gazebo, we subject our tent fabrics to regular waterproofing tests. Our tent fabrics are tested for waterproofness in renowned test centres. In addition, we carry out random tests in our headquarters several times a year. Thanks to these efforts we can say with a clear conscience that our folding gazebos are 100% waterproof.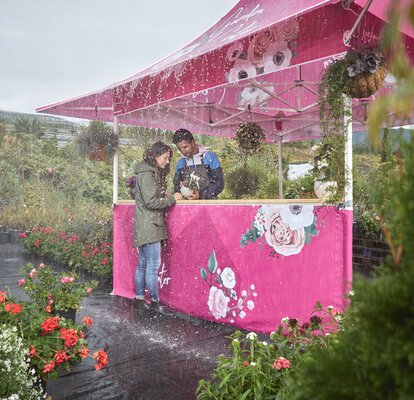 Waterproof gazebo with sides
Do you want an all-round protection? Then a waterproof folding gazebo with sidewalls is the right choice for you. But also in this case we advise you to make sure that the sidewalls are 100% waterproof.
Weather resistant gazebo
During summer, we recommend choosing weather resistant gazebos, especially if you plan to frequently use them outdoors. They are usually available from renowned manufacturers and the purchase is usually somewhat more expensive than non-weather resistant gazebos.
But the waterproof materials, sturdy construction and numerous guarantees pay off with regular use.
Mastertent's weather resistant gazebos are 100% waterproof, windproof and particularly stable.