The Versatile Winter Tent
Organise the best snow event with our outdoor winter party tent! 
Provide your guests or visitors to events in the snow with adequate protection from the wind and cold temperatures with our winter-proof tent.
Temperatures are starting to drop and it might become uncomfortable outside.... But with the right equipment you will be able to create a feel-good outdoor space for your family, friends and guests where no one will be cold. Even for big events we've got a mobile, weatherproof solution for you: a winter-proof tent.
A folding gazebo can be plain and simple: a framework with a roof. But it can also be equipped with many different accessories that help create a cosy, friendly atmosphere even during the cold winter season.
Equip your folding gazebo with:
the appropriate lighting and
a very special fabric: our "Loden" fabric.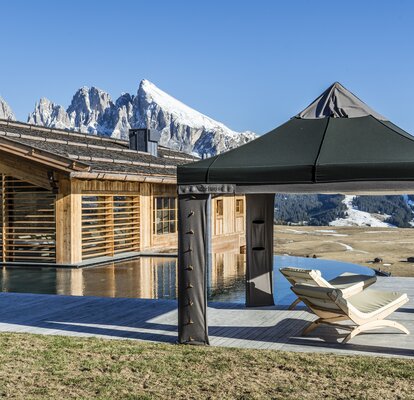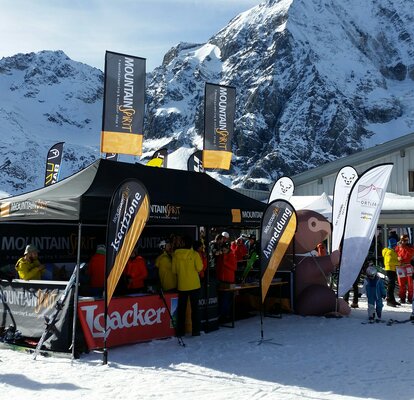 The protective winter tent
The wind blows from all directions and no one wants to be outside in the middle of the beautiful winter landscape. But what if there was a cosy, waterproof and completely insulated tent? With our 100% personalised sidewalls, you can adapt your folding gazebo perfectly to your outdoor area. With wind- and waterproof PVC windows your guests will have a great panoramic view of surrounding mountains, forests or snow-covered meadows.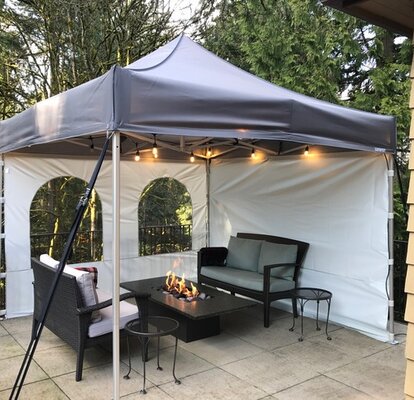 In contrast to the sidewalls of our Series 2 gazebos, the sidewalls of our Series 1 are attached to the tent leg with continuous Velcro strips and are therefore 100% windproof. They can also be removed quickly and easily in case the weather is fine and the temperatures pleasant.
A heated winter tent? No problem!
Sometimes we simply prefer to stay close to a warm fireplace with its flickering flames providing warmth. But why not create an atmosphere that encourages us to linger outside in fresh air?
Of course, this requires a heat source, because no one wants to freeze... So what do you think about a radiant heater for your winter tent? Of course you can also use it for other covered areas, such as a winter gardens or pavilions.
Light on dark days
It's cloudy, it's snowing and the sun is hiding behind the clouds? Then get the suitable lighting for the perfect winter tent; in our product range you will find energy-saving LED lighting, including dimmable LED spotlights for a warm atmosphere. Of course, lighting is also very advantageous if your guests simply want to sit outside a little longer, or if the event at the ski resort is still going on for a while.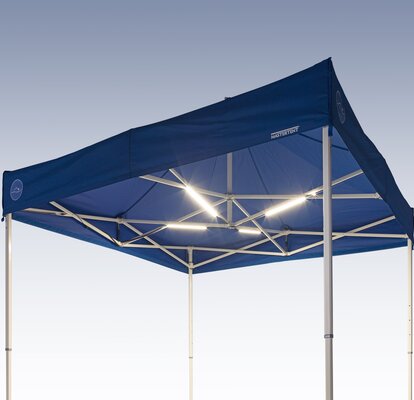 Foldable wooden furniture for a cosy place to sit down
For all those who are looking for robust, stable folding furniture made of high-quality materials, we have the right solution. Use our classic beer garden table set for big events, as it is space-saving and can be set up and taken down in no time at all. One of our elegant models, on the other hand, will give your outdoor area a very special atmosphere for unique moments.
Winter Party Tents
Get ready for your next winter event with a outdoor winter party tent! Our folding gazebos are 100% waterproof and remain standing even in strong winds - provided they are properly secured. Thanks to their stability, our winter tents are ideal for sporting events in ski resorts or other events and can be used, for example, as a party tent, ticket booth or for promotional purposes. If a heavy snowstorm is approaching and you need to act quickly, the gazebos can be dismantled very quickly. Please protect your folding gazebo from large amounts of snow, because it is not made of steel!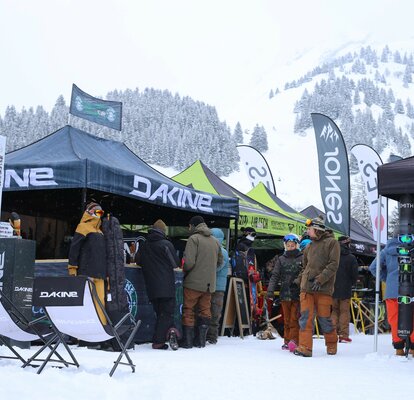 A winter tent with style and alpine flair
Would you like to bring some alpine atmosphere to your home and at the same time create additional protection and a warm atmosphere? With our "loden" cover for our folding gazebos you will succeed! Personalise this sheep's wool fabric in one of five available colours.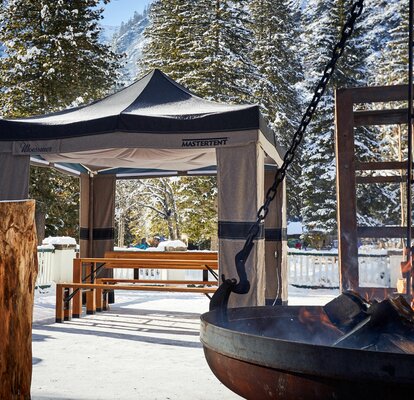 Would you like to buy a winter tent?
Contact our experts! They know what is important when buying a winter tent and they will give you professional advices.