Terrace Gazebo
All-Weather Protection for Your Guests
Always wanted a Gazebo on Terrace? Finally we have the Perfect Solution! 
The success formula in bad weather and heat in gastronomy? Clearly a terrace gazebo from Mastertent. Amazing designs make it unique.
"Can we have a seat outside?" - is probably the most frequently asked question when it comes to table reservations and seat assignments in the restaurant trade. No matter what the weather forecast or actually dark clouds predict. No arguments can help. Outdoor tables are always the guests' favourite places, regardless of the season or time of year.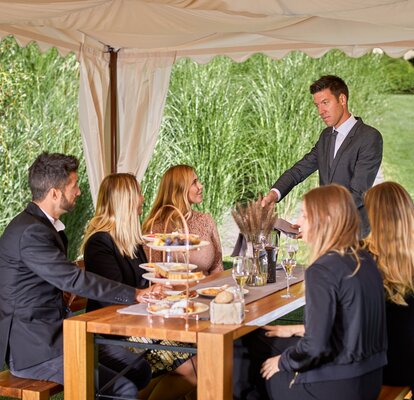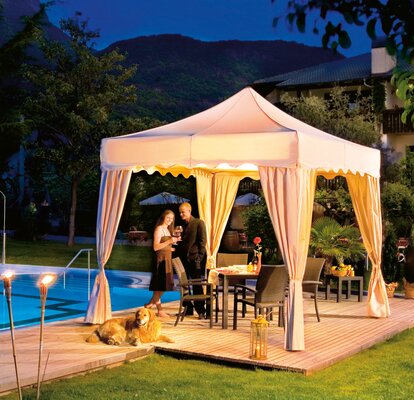 Rain and Sun Are Driving You Crazy? Not with Our Terrace Gazebo.
Rain: The outdoor dining service was running smoothly until suddenly huge drops were splashing from the sky? Guests and staff have to carry everything into the restaurant, glasses get mixed up and plates are misplaced? We are familiar with that. Using our terrace gazebo, you can prevent such situations. Our terrace gazebos are waterproof thanks to the dense Oxford polyester fabric. Additionally, all fabrics are specially coated. We even impregnate all seams to ensure 100% waterproofing.
This allows guests to relax comfortably under the terrace gazebo even during sudden (or predictable) summer thunderstorms. They can just listen to the splashing of the drops. Almost sounds romantic, doesn't it?
Sun: How the terrace gazebos assist in bright sunshine is pretty apparent: They provide shadow. Which guest gets the popular shaded place? Thanks to the terrace gazebo, it is possible to cover the entire outdoor area.
Too Windy, too Cold, or too Warm - Under the Terrace Gazebo it's Always Pleasant.
You read right. Our terrace gazebo even turns temperature into a minor matter. But how? With the right accessories and terrace gazebo design, of course.
Too windy: Get some sidewalls as well for your terrace gazebo. They protect against wind and ensure that even the decorative flowers stay on the tables and are not blown away by the wind. The sidewalls can be attached to the tent legs of the terrace tent within seconds by means of simple Velcro fasteners. This allows you to respond to both the wind and the needs of your guests at the same time.
Too cold: We have a radiant heater in our assortment which can be easily attached to the legs of the winter terrace gazebo. Thus the catering of your outdoor area is possible even in the cold months.
Too warm: We recommend light fabrics for the roof and sidewalls of the terrace gazebo. These provide plenty of shade and simultaneously ensure pleasant temperatures under the terrace tent.
Impressed? From now on only you and your dishes decide whether your guests stay for a dessert.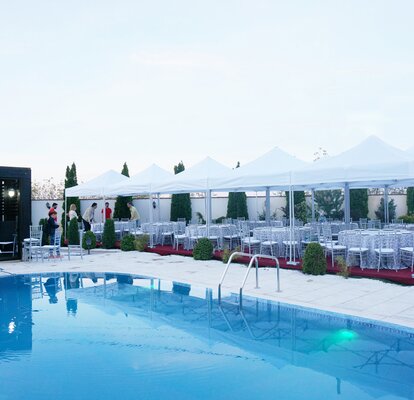 You Can Rely on our Sturdy Terrace Gazebos.
In contrast to simple sun umbrellas, Mastertent terrace tents can withstand wind speeds of over 100 km/h. Since almost 30 years, Mastertent's product developers have been dedicated to continuously optimising the stability of the aluminium frame. For instance, the octagonal aluminium base plates provide more foot space and thus ensure that your terrace gazebo remains standing firmly.
Particularly for continuous use, we strongly recommend ensuring proper fastening of the terrace gazebos. Gazebo weights of cast iron are available in 28 kg or 10 kg. No matter whether there are snowstorms in winter or strong gusts of wind in autumn - your terrace gazebo stays in position safely.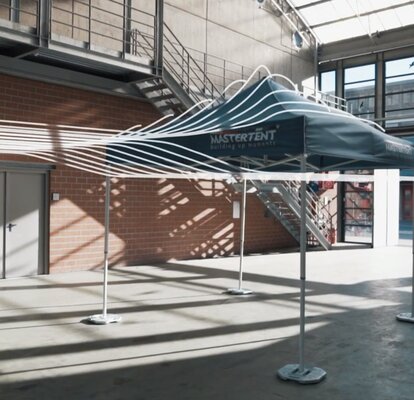 The Terrace Gazebo Frams with Simple Elegance.
Every barkeeper knows it. Not only the food and drinks have to convince, but also de surroundings - one more reason to choose a terrace gazebo from Mastertent.
The slim tent legs and the generous passage height provide all standard Mastertent tents with simple elegance. The natural light can pass under the terrace gazebo, and the feeling of constriction does not emerge at all. The elegant terrace gazebo design from Mastertent wins the race against all bulky wood and steel constructions.
Terrace Gazebo Designs for Unique Moments?
Terrace gazebo designs for outstanding moments in life by Mastertent. We are happy to present our 3 favourite terrace gazebo designs for you:
The Kit Royal is probably one of the most beautiful terrace gazebo designs in the Mastertent world. With corner curtains, a sky and scalloped valancees, the terrace gazebo Kit Royal creates a magical atmosphere.
The second terrace tent design we would like to recommend is the pagoda tent. The pagoda tent scores with its square shape of 3x3, 4x4 and 5x5 m, and its high gable. It appears particularly noble in the colours ecru or white.
Both terrace gazebo designs are most famous for weddings or romantic events at the hotel and catering industry.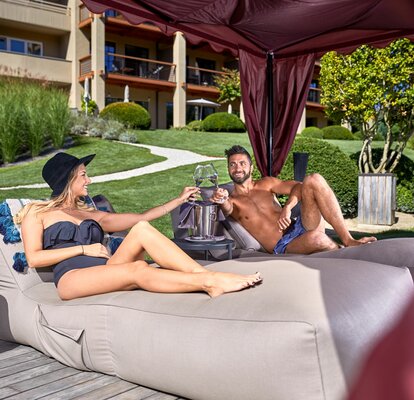 Terrace gazebo design number 3 is our Kit Loden. The loden cover is pulled over an ordinary gazebo and transforms the terrace into an alpine oasis of well-being. The Kit Loden is exclusively available at Mastertent. Even our customers' customers take selfies from this terrace gazebo, reports our client Michael Wachtler.
Would you like to find out more about the use of gazebos in the catering and hotel industry? Learn more about this application here.