Sturdy gazebos -
wind resistant and windproof
The best gazebo for wind
Strong windproof gazebo for all weathers. Our storm proof gazebo protects you in every situation!
You are wondering how you can best stabilise your gazebo and whether it can withstand the wind at all? We do not only supply gazebos, but we also deliver answers!
We advise you never to assume that there is no wind and to make sure that your gazebo is always properly fastened. Particularly in summer and autumn, storms and gusts of wind often arise unexpectedly and without warning. Once the gazebo has become independent, the entire surroundings, including your bank account, are at risk. Unless the gazebo has been fixed in a firm position, there is no insurance against damage to property or personal injury - this may get expensive, that's self-evident. Hence, always remember: Prevention is better than aftercare!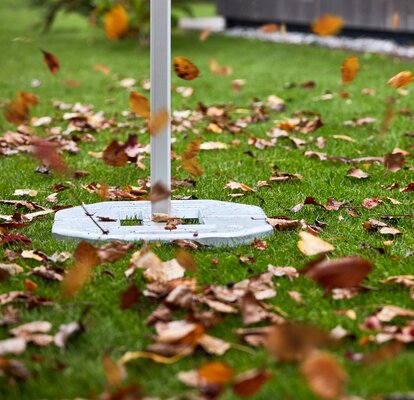 How to make your gazebo windproof
To make sure that your gazebo is not taking off, we have put together four practical tips on how to make your gazebo windproof.
Fastening on solid ground?
On asphalt, stone or cement, you can make your gazebo weatherproof by using the stackable 10 or 28 kg base plates. Thanks to their carrying handle, they are easy to transport. Is the wind stronger than predicted? No problem! Retrofit flexibly!
Fastening on soft ground?
In case of soft ground we suggest the Mastertent fastening kit consisting of tensioning straps and pegs. Tension the straps from top to bottom and then anchor the pegs in the earth. This method guarantees wind resistance from all sides and prevents fluctuations of the weatherproof gazebo.
Apart from this, it is also possible to fix the legs of your gazebo with our rip-proof tensioning belts to fences, street lamps, trees, etc. Better safe than sorry!
Are you already proud owner of a Mastertent Series 1 gazebo with four closed side walls? In that case we would like to congratulate you on your 100% weatherproof and sturdy gazebo. No matter where the wind comes from, your gazebo will stay in position. If, on the other hand, you only have 3 sidewalls, it is crucial to pay special attention to the direction of the wind when positioning the sturdy outdoor canopy. If the wind enters directly underneath the gazebo, it is dangerous that the wind cannot find its way out and the gazebo is blown away.
---
Resistant to winds of up to 100 km/h - a brand promise.
Have you followed our practical advice and made your high-quality gazebo windproof? Perfect! Then the wind can come and make its mischief because it can no longer harm your sturdy gazebo. After all, the sturdy gazebo is weatherproof and can withstand even storms of up to 100 km/h.
The Mastertent windproofness is absolutely unique, industry-standard gazebos can only withstand an average wind speed of 70-80 km/h.
This is not only promised but also proven, as shown by the results of the wind tunnel test. Under the supervision of the renowned engineering company Maffeis Engineering S.p.A., various models, sizes and base plates were carefully examined. We were delighted to receive the certificates issued by the specialist institute subsequently. A short wind tunnel video sample is available here: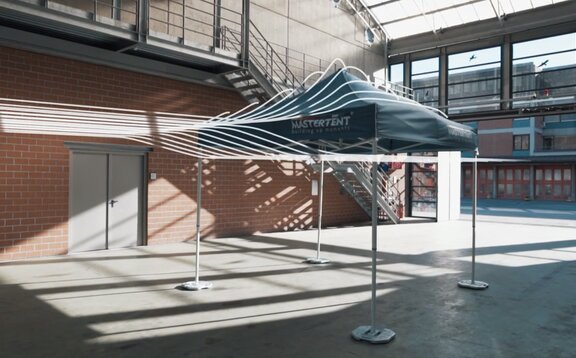 ---
What makes Mastertent's gazebos sturdy?
By now, you have learned how to make your gazebo windproof. So, with pleasure, we would also like to tell you what makes Mastertent's gazebos so sturdy and weatherproof. The following 3 main factors are decisive:
1. Material and shape of the tent frame
For the tent structure, we only use extruded drawn aluminium.

Aluminium is a light and durable material, 100% recyclable and extremely weather-resistant. That's why we guarantee lifelong corrosion protection.

The aluminium profiles have been statically optimised by us to achieve a low dead weight with maximum stability.

For the shape of the aluminium profiles applies the more edges the more stability. In this regard, Mastertent clearly stands out from the competition with 8 edges.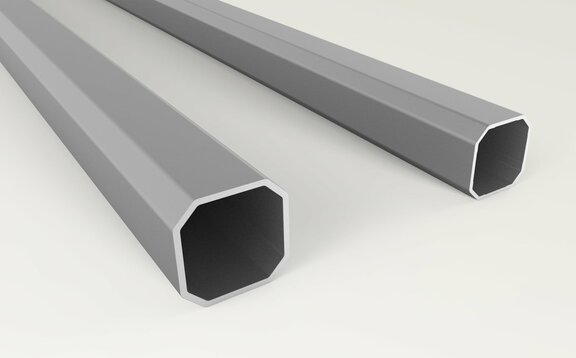 2. The material of the fabric
The fabric material also contributes decisively to the stability and wind resistance of our weatherproof gazebos. For the roof and the sidewalls, we use a high-quality polyester fabric, which has been tested and is guaranteed to be waterproof, windproof and fire-retardant according to EN standard 13501-1. The production of extremely sturdy gazebos is Mastertent's top priority.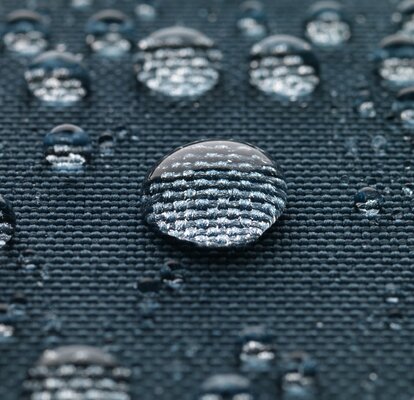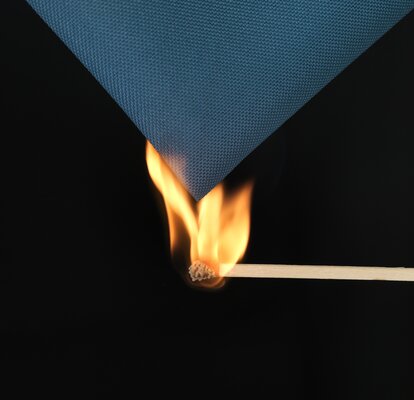 3. The size of the gazebo
Of course also the weight and size of the gazebos influence the tents' stability. The smaller and more compact the gazebos are, the more sturdy and weatherproof they are. Consequently, a sturdy 3x3 gazebo can shield against wind and weather much more easily than a large-scale gazebo.
---
Sturdiness comparison of Series 1 and Series 2
Safety advantages start with the choice of your gazebo. In the following overview you will find a comparison of the stability features described above.
| | SerieS 1 | SerieS 2 |
| --- | --- | --- |
| Profile thickness | 43 x 49 mm | 37 x 42,5 mm |
| Wall thickness | 2,5 mm | 2,1 mm |
| Polyester fabric: Roof | Oxford 500D | Oxford 500D |
| Polyester fabric: sidewall | Oxford 250D/500D | Oxford 250D/500D |
---
Why you can rely on Mastertent's sturdy gazebos
Now we're almost done. We have already reported on the gazebo wind test and the life-long warranty against corrosion. Nevertheless we would like to mention a few more essential facts regarding the Mastertent stability promise. In concrete terms, we guarantee for your sturdy gazebo the following:
Furthermore our brand promise includes numerous international certifications and reliable customer service. And that' s already the closing keyword: Let us know if our "sturdy, practical tips" were helpful. And if you have ever experienced a private wind test yourself, we look forward to the undoubtedly exciting field reports!