Garden Tents and Gazebos for Pure Relaxation
Waterproof  garden tents - choose the right size and colours for your garden
With one of our garden tents, you will survive every summer thunderstorm.
Are you already planning your next barbecue party at home? If so, do not forget to think about the right shelter. With a foldable garden tent from Mastertent, your barbecue party will definitely not fall "into the water".
Our garden tents are excellent for unexpected weather changes. They can be taken out of your garden house quickly and easily. In only 60 seconds your barbecue party will be dry again and you can continue to party with your guests for hours.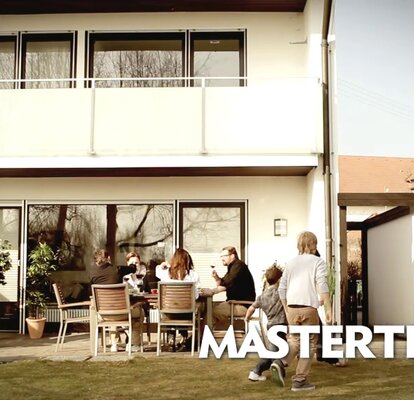 Garden Tents vs Garden Pavilion
Are you wondering where the difference between a garden tent and a garden pavilion lies? Let us explain the essential difference:
A garden tent is usually a foldable tent that can be assembled and disassembled in seconds without tools.
A garden pavilion usually corresponds to sturdy steel or wooden construction. It is permanently installed in your garden in both winter and summer.
As a tent-manufacturer, we are convinced that we have a mobile solution for your garden. After all, a bulky garden pavilion just takes away a lot of your valuable garden space all year round. Even when not in use.
Why do You Need one of our Garden Tents?
Garden tents from Mastertent are not comparable with the light DIY store garden tents. We offer high-quality gazebos which can be used for several years. We are investing lots of time and resources in our product optimisation projects to be able to guarantee a product with superior longevity.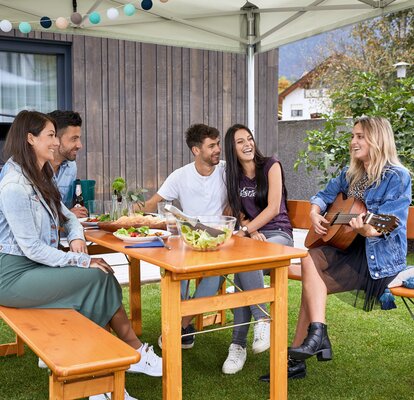 That' s why Our Garden Tents are Customer Favourites!
100 % waterproof
fire-resistant
in combination with the side walls completely windproof
ingenious technical solutions which protect the material and consequently increase the durability
Certifications & patents on the product
...and they can withstand winds of up to 100km/h.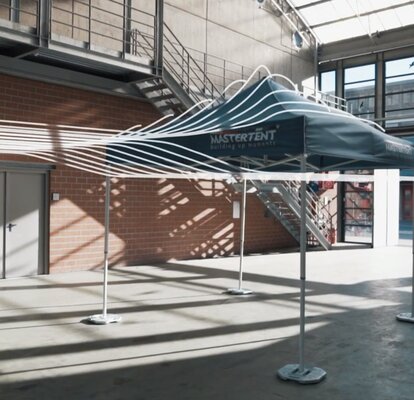 Our Garden Tents - Extremely Versatile in Use
Our garden tents do not only protect your guests from spontaneous summer thunderstorms but can be used in many different ways too. It is worth taking a look at our accessories. Sidewalls with a door, window or closed could for example quickly transform your garden tent into a mobile garden house.
Other fields of application for your garden tent:
Mobile garden shed
Garage for your car
Roofing for your garden party
If you are involved in a sales activity, you can also use your gazebo as a sales stand
Caterers love our garden tent to cover food & drinks elegantly
Garden Tents and Gazebos for the Restaurant Trade
Our garden tents are used particularly often by the restaurant trade. Many innkeepers cover different areas of their gardens and terraces. Guests can therefore enjoy the fresh air outside and relax with no restrictions.

Our Bestseller? The Garden Tent 3x3 m
Depending on what you use your garden tent for, different sizes are recommended. The classical garden tent is, of course, our garden tent measuring 3x3 m. Thanks to its practical size, it can be used in many ways and can be placed in almost any garden. For those who have a slightly larger garden, we suggest one size larger. The garden tent 4x4 m. It is spacious but still as versatile as our classic garden tent.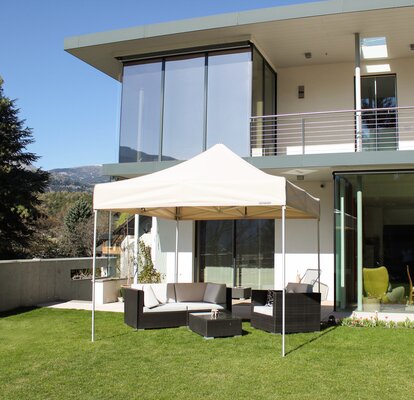 Smart Accessories for your Garden Tent
Mastertent offers a wide range of accessories for outdoor garden tents. Regardless of use, we recommend using weights and ground plates to properly fasten the gazebo. Depending on how you want to use your garden tent, you can choose from the following accessories:
Side walls (closed, with windows, with doors or with half height)
Radiant heater
Transport wheels
Spontaneous Barbecue Party or Elegant Garden Event?
Do you frequently celebrate exclusive garden parties? Or do you appreciate style and design?
Let us present our most loved product package: Mastertent Kit Royal. A stylish garden tent with corner curtains, sky and bright lighting. Elegant colours like "Ecru" or "Bordeaux" round off its appearance. Your guests will be amazed!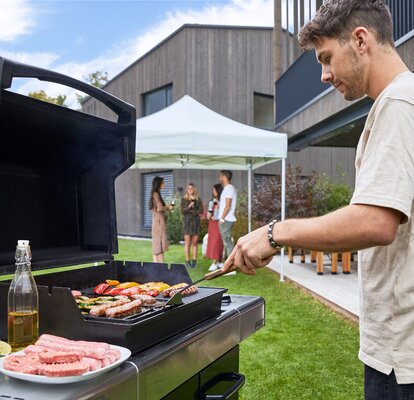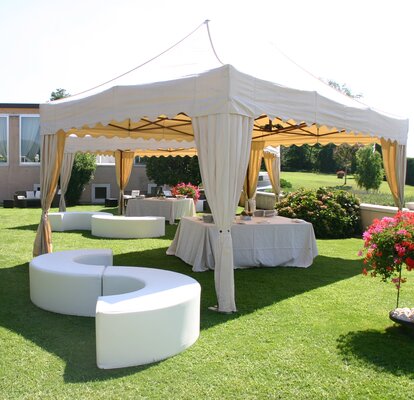 Large Colour Spectrum for Your Garden Gazebo
Only Mastertent offers you the possibility to match the colour of the aluminium frame to the tent fabric. The tent fabric for the roof and sidewalls is available in 12 standard colours and can be adjusted to the colour of the aluminium frame, which is available in 9 standard colours.
Relaxing Under your Garden Tent?
You know all about our garden tents now. But to make it comfortable underneath, and to enable you to really enjoy the summer season, the right beer garden table set is still missing.
Of course also that is foldable and stylish at Mastertent! In addition to the classic beer table set, we also offer some special models for your little well-being oasis at home.
Favourite Products for the Garden at Home?
Rustica creates a unique ambience. The set with backrest is both space-saving and comfortable.
Lago stands for timeless design. Robust and functional, this folding furniture model attracts all eyes.
All information about other models such as Stand-Up and Shorty, the compact set for the balcony, can be found on our beer garden tables overview.