Medical Tents for all Occassions
When every second counts... Our medical tents support rapid and professional rescue operations.
The complete medical tent, our Kit Rescue, is ready for use within 5 minutes without the need for tools and electricity, including floor and side walls. It has already proven its worth for all kinds of applications, e.g. as shelter when rescuing injured parties during accidents, in the event of natural catastrophes, firefighting missions, police operations, people screening, federal army deployments, water rescue services or mountain rescue.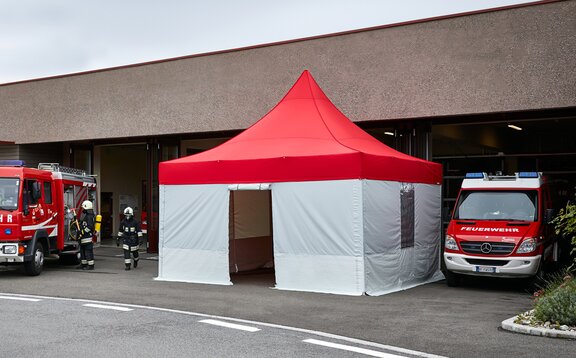 100% waterproof, fire-resistant, privacy protection
Our medical tents are available in the sizes 4.5x3 m, 6x4 m and 8x4 m. The 100% waterproof and fire-resistant materials ensure optimal protection and a safe retreat when rescuing and caring for the injured. Our medical tents also help prevent onlookers from stealing a glance, since we offer you complete visual protection. As a result, victims, the injured and wounded can be treated and cared for with discretion.