Innovative
Smoking Tents
Non-Smoker Protection Act - And Now?
Non-smoker protection act - and now? Smoking tents from Mastertent are the ideal outdoor space solution for the gastronomy sector, avoiding expensive renovations and extensions.
Smoker's Tent with Innovative Ventilation System
In contrast to conventional gazebos, we have equipped the roof of our smoking tent with so-called dormers which allow the smoke to escape upwards.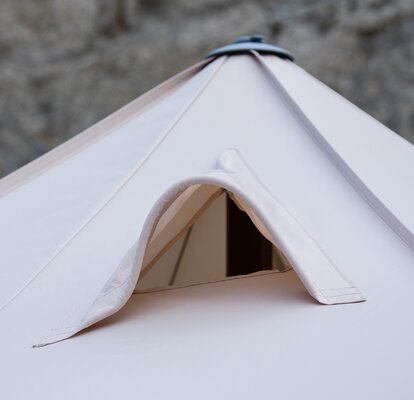 Smoking Tents - Fire-Retardant and 100 % Waterproof
Mastertent smoking tents are 100% waterproof and fire-retardant. They can be deployed as outdoors smoking tents without any problems. Additionally, smoking tents can be equipped with sidewalls and radiant heaters to ensure that your smoking guests do not have to freeze in winter.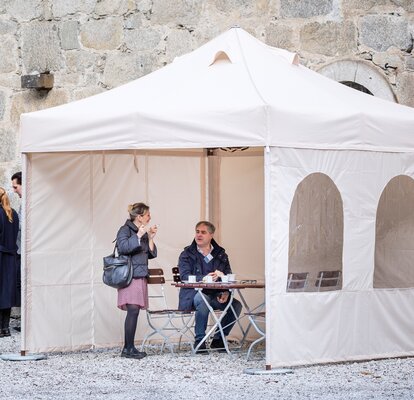 No Need to Visit Authorities, Regardless of Size
With our smoking tents you save time and money. Regardless of the chosen size, you save yourself the hassle of dealing with the authorities, as no approval by a structural engineer is required. You will also benefit from the quick and easy set up. Our smoking tents can be assembled very flexibly and are absolutely compliant with the law.
The smoking tent is available in the following dimensions: 3x3 m, 4.5x3 m, 6x3 m, 4x4 m, 6x4 m, 8x4 m, 5x5 m, 4x2 m, 3x2 m, 3x1.5 m, 2x2 m and 1.5x1.5 m.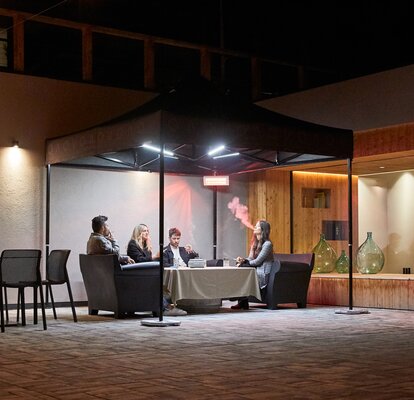 Smoking Tents - Flexible in Use
Most of our customers use the smoking tent as an outdoor smoking room in the wintertime. However, you can deploy your smoking tent as source of shade in summer too. No matter whether you use it in the garden, on the terrace or by the pool, your guests will enjoy the additional roofing. Thanks to the quick assembly and disassembly, the smoking tent can be moved from A to B as desired.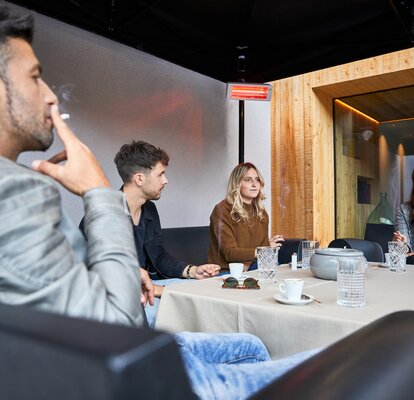 Smoking Tent as an Advertising Media
Just print your logo on it, and the smoking tent will become a new advertising media for your restaurant. Only Mastertent offers you the possibility to adapt the colour of the frame to the tent fabric. The tent fabric for roof and sidewalls is available in 13 standard colours. It can be matched to the colour of the aluminium frame, which is available in 9 standard colours.