Beer Pavilion that Grabs Attention
High-quality beer pavilions in 6-corner or 8-corner designs for all kinds of celebrations and events.
The Mastertent beer pavilion is of the best quality. You only need 10 minutes of your time and no tools whatsoever for complete set-up. The beer pavilion is perfect for all kinds of celebrations and events, whether you want to organize a small village party or a large international event – the Mastertent beer pavilion is always the right choice. Despite the three sizes available, 4-corner, 6-corner and 8-corner, it is the 6-corner and 8-corner beer pavilions that have really proven their worth. International breweries such as Heineken, Carlsberg, Krombacher, Stiegl and Gösser are just some of our customers.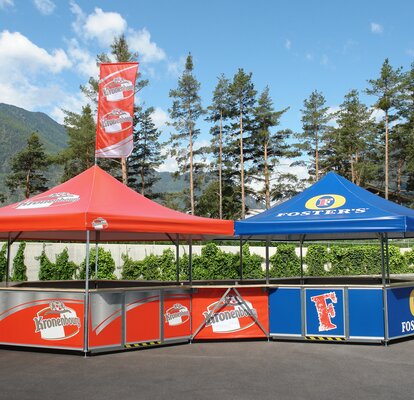 Draw Attention to Yourself
We also offer full personalization of your beer pavilion so that you draw attention even among the biggest of crowds. You can not only select the colour of the PVC roof, we can even have it printed for you. You can have your logo, lettering or other motifs printed across the entire roof and full surfaces of the panels. Our in-house graphic and printing department can cater for individual solutions. Individually printed banners and flags can also be mounted to the roof, which will significantly increase your visibility.