Pagoda Gazebo
Directly From the Manufacturer
Small packing size and quick set-up
A pagoda gazebo different from the usual: easy transport, small packing size, quick set-up and no lose parts. These are the characteristics which distinguish our pagoda gazebos from conventional ones.
In order for you to be ready for any occasion, you can choose the perfect gazebo size: 3x3 m, 4x4 m and 5x5 m.
Foldable Pagoda Gazebos With Small Packing Size
Bulky was yesterday - foldable pagoda gazebo is reality. The innovative Mastertent folding gazebo excels in its small packing size and is, unlike other pagoda gazebos, handy and easy to transport. In addition, the small packing size allows easy storage. The small but significant differences have practical advantages.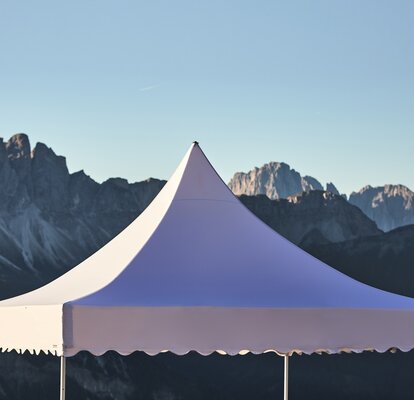 Our Pagoda Gazebo's Sizes
We have extended our pagoda gazebo product range and now they are available in the following three standard sizes:
We are sure you will find the right size for your pagoda gazebo. As already mentioned, our foldable pagoda gazebos excel in particular with small packing sizes and low weights.
| Size | packing size | weight |
| --- | --- | --- |
| 5x5 m Pagoda Gazebo | 54x52x206 cm | 77,2 kg |
| 4x4 m Pagoda Gazebo | 42x44x206 cm | 46,8 kg |
| 3x3 m Pagoda Gazebo | 42x44x158 cm | 37,2 kg |
The Professional's 5x5 m Pagoda Gazebo
The probably most popular one is the 5x5 m Pagoda Gazebo. It is a trusty companion at festivities, public events, weddings and other celebrations. Contrary to common pagoda gazebos, the 5x5 m Pagoda Gazebo from Mastertent convinces with its foldable construction. With a packing size of only 54x52x206 cm, it does not only allow for an easy transport, but also for a space-saving storage.
These three advantages of our innovative foldable structure are obvious:
no loose parts
no bulky structure
space-saving storage
Besides the octagonal aluminium profiles, the lateral hinged poles guarantee the necessary stability. Like this, your 5x5 m Pagoda Gazebo will stand safely and firmly at any event. You can even set the gazebo up in three different heights for optimal adaptation.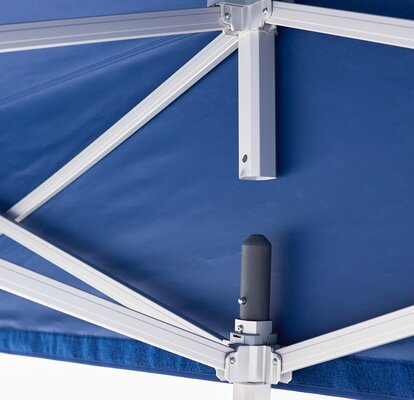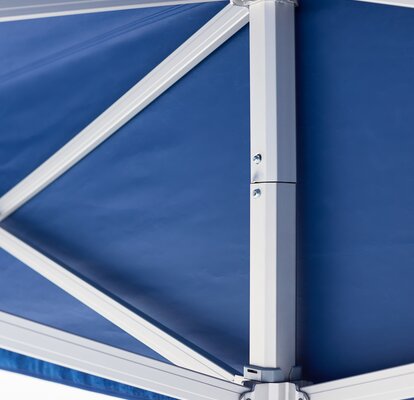 A 100% visibility is guaranteed. The gazebo's high gable makes it visible from afar and will provide maximum advertising effectiveness. Choose your favourite colour from 12 different ones and combine it with the silver anodised aluminium frame. With an individual printing the result will be exceptional.
Nice extra: The 5x5 m Pagoda Gazebo is equipped with a patented flag holder where you can mount an advertising flag onto the roof. This makes your gazebo even more visible.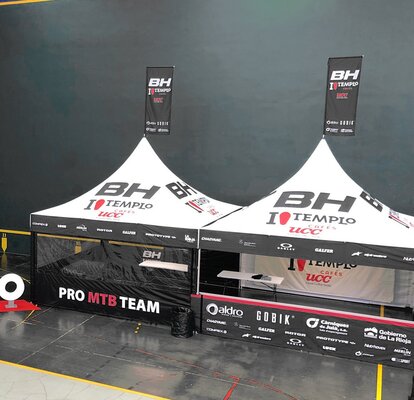 The 4x4 m and 3x3 m Pagoda Gazebos
In addition to the classic 5x5 m Pagoda Gazebo, we included two more pagoda gazebos in our standard range:
4x4 m Pagoda Gazebo
3x3 m Pagoda Gazebo
The foldable structure without any loose parts and the easy handling are characteristics which make also these two pagoda gazebos very popular with event promoters and rental companies.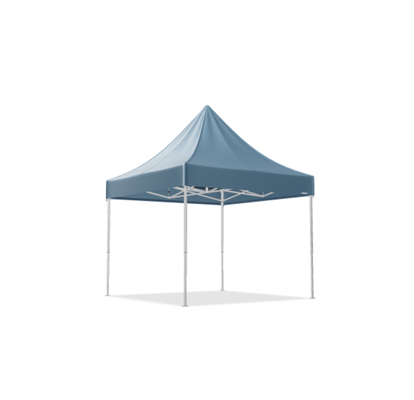 The small packing size of only 42x44x206 cm of the 4x4 m Pagoda Gazebo and the only 42x44x158 cm of the 3x3 m Pagoda Gazebo is identical to the packing size of a classical folding gazebo. This means, that also the 4x4 m and 3x3 m Pagoda Gazebos can be easily transported and stored.
Like with our classical folding gazebo, you can also personalise these two Pagoda Gazebos with your favourite colours choosing from 9 frame colours and 12 fabric colours and combining them to your liking. With an individual printing you can add another personal touch to your gazebo. The only difference to the 5x5 m Pagoda Gazebo is that it is not possible to mount a flag on the gazebos' roofs.
Quick Set-Up and 100% Waterproof
Conventional pagoda gazebos are bulky and consist of many loose parts. These characteristics make the handling and set-up rather difficult and could unnecessarily restrict the user, which in turn costs time and nerves.
Our pagoda gazebos, in contrast, are designed futuristically and customer-oriented. They can be set up in just 2 minutes - without any tools - and come in a small and handy packing size. In addition, our pagoda gazebos are made of high-quality materials, are 100% waterproof and fire-retardant.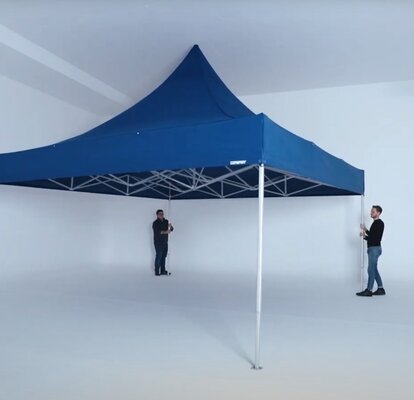 Pagoda Gazebos Made of PVC and Polyester
Mastertent gives you the possibility to choose from a pagoda roof made of PVC or high-quality polyester, whereas many other providers offer only one at a time. Select the fabric which fits best to your needs and requirements.
In addition, the Mastertent pagoda gazebo convinces with its light, extremely stable aluminium frame with a profile thickness of 43x49 mm and a wall thickness of 2.5 mm.
Pagoda Gazebos - a Highlight at Weddings
The high gable and the optional scalloped valance give the Mastertent pagoda gazebo that extra something. The elegant design creates a special atmosphere and provides the ideal setting for weddings and other events. The stylish and at the same time high-quality pagoda gazebo is very popular with event organisers and tent rentals.
The original design speaks for itself:
timeless design
minimalistic details
straight or scalloped valance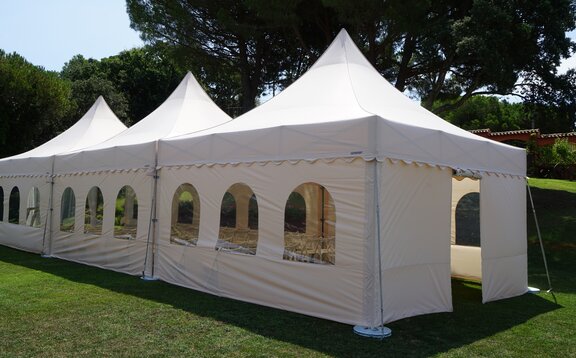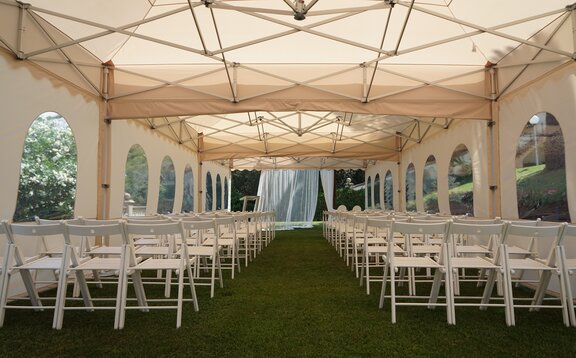 Pagode Tent - Infinite Usage Possibilities
The Mastertent pagoda gazebo can be used in many different occasions. Not only for open-air events, for instance, but also for exhibitions, fairs, parties or concerts. Especially event agencies, event organizers and tent rentals fall back on the pagoda gazebo, because the oriental appearance attracts the eye everywhere. However, also rescue organisations like to make use of the Mastertent folding pagoda gazebo.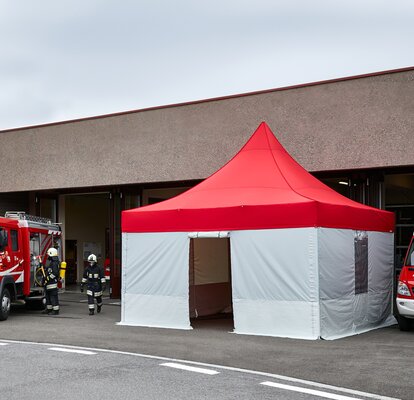 High Gable for More Visibility
The innovative design of this folding gazebo is particularly characterised by its high gable and thus the particularly high and pointed roof. The pagoda gazebo therefore looks slim, simple and elegant. This appearance is the ideal prerequisite in order to be seen from a distance and the decisive point for more visibility.
Purchase Pagoda Gazebos Directly From the Manufacturer
The optimal procurement of goods takes place when the pagoda gazebo is purchased directly from the manufacturer. This provides not only enormous advantages, but also an intensive, solution-oriented and confidential service.
At Mastertent you are able to purchase pagoda gazebos directly from the maunfacturer - of course of the best quality and with enormous advantages:
use of certified gazebo fabrics made of polyester or PVC
robust and relatively light aluminium frame
extensive services
many years of experience and well-founded know-how
additional warranties & certificates
competent spare parts service for 10 years
Do not hesitate any longer and ask here for a non-binding offer for your ideal pagoda tent.