Working Tents for High-Quality on Your Construction Sites
Mastertent provides optimal solutions for working tents, construction tents and mobile construction site roofings.
In many cases work cannot be postponed or delayed since deadlines need to be met. To carry out high-quality work even in rain and blazing sun, many companies use so-called working tents.
Various Uses of Working Tents on Outdoor Construction Sites
The fields of application and use are endless. The construction tents can be used, for instance, for the following working activities in the open air:
Road construction work
Inspections
Sewage and pipework
Work on electrical and mobile function boxes
Shaft and channel work
Fibre optic assembly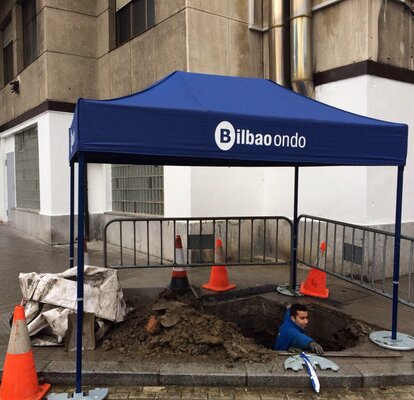 Working Tents and Construction Tents as Mobile Construction Site Roofing
Mastertent gazebos are being used more and more frequently in the construction industry as working tents. They protect not only employees and machines but also sensitive building materials from wind and rain. All working tents are 100% waterproof and fire-retardant, enabling you to guarantee quality on-site in all weather conditions.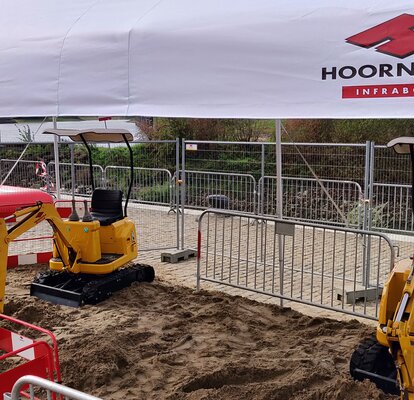 Within 60 Seconds Our Working Tents Are Ready for Use
The working tents by Mastertent are of the highest quality and can be easily set up in a matter of seconds - without any tools at all. In contrast to other bulky construction site roofs, employees do not lose any time thanks to the uncomplicated assembly.
Thanks to the permanent connection of frame and roof there are no loose individual or small parts that can get lost. The construction tents can be easily assembled and disassembled at any time. They can therefore be used on different construction sites.
Practical Packing Sizes and all Work Tent Sizes
Our construction tents are available in 12 different sizes and can be extended thanks to the modular system infinitely. This means that both small and large construction sites can be covered. Additionally, you can benefit from the handy packing dimensions of our work tents: An 8x4 m construction tent has a pack size of only 42x72x206 cm. Bringing a construction tent from one construction site to another is no problem at all.
The Extra: Valuable Advertising - Visible to Everyone
Besides, you can not only show off your working tent and construction tent as a mobile construction site roofing but also use it as an ideal advertising medium. We can print your gazebo with your company logo. This way you can promote your company exactly where everyone can see it