Your Balcony Gazebo.
Your Favourite Place.
Staycation! With a balcony gazebo and a set Shorty, your balcony will soon become your personal favourite place at home.
With a balcony gazebo from Mastertent from now on, every evening and every weekend equals cosiness and relaxation. Sun, wind and weather can no longer cloud your time of well-being on the balcony.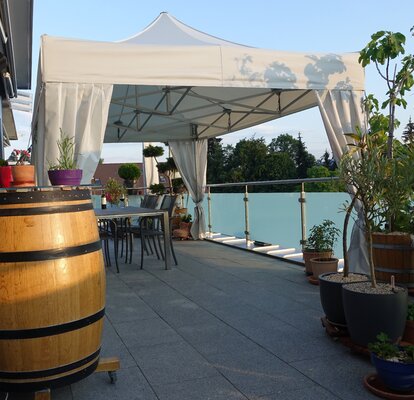 Balcony Gazebos for Every Day.
What do you think about the idea of enjoying your favourite place at home - in any weather and at any time? We are quite enthusiastic about this idea.
Mastertent balcony gazebos are 100% waterproof and wind-proof. They can withstand wind speeds of up to 100 km/h. With base weights fixed to the tent legs, you can make sure that your balcony gazebo will not take off even on the 5th floor during summer storms.
In bright sunshine the balcony gazebo protects against UV-rays. Thanks to your balcony gazebo, you can fully enjoy your lunch outdoors without any worries.
We also recommend the installation of additional lighting to your balcony gazebo to enjoy your late dinner outdoors or simply read a book outside in the evening.
Balcony Gazebos Immediately and for a Long Time.
Immediately. The construction of our balcony gazebos works in no time at all. Only 60 seconds and sun protection or shade provider are set up.
Furthermore our balcony gazebos impress with the smallest packing dimensions. You only need little space to store away your balcony gazebo.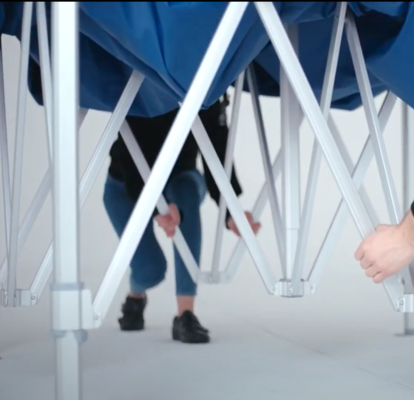 Long-term. Continuous assembly and dismantling bother you? No problem with the balcony gazebos from Mastertent. They are designed for long service life. Once set up, the balcony gazebos can simply be left standing, even for a longer period. Balcony gazebos from Mastertent are of the highest quality, a result of technical sophistication, years of experience and the use of high-quality materials. The generous warranties are an expression of our quality philosophy. 10 years availability of all original spare parts for the aluminium frame of your balcony gazebo is just one of them.
Balcony Gazebos for Every Season.
Everyone knows that balcony gazebos are an absolute must-have for pure relaxation on balconies in spring and summer. You are wondering how balcony gazebos can turn your balcony into a real oasis of well-being in winter and autumn? With the right accessories, of course.
Radiant heater: a radiant heater makes your winter balcony gazebo cosy and warm even on cooler days.
Sidewalls: With sidewalls you can enjoy almost all indoors benefits under your balcony gazebo. Sudden gusts of wind in autumn and winter have no chance of upsetting you.
Getting fresh air without freezing is possible with Mastertent in every season.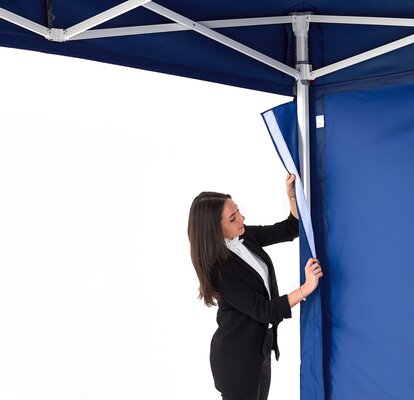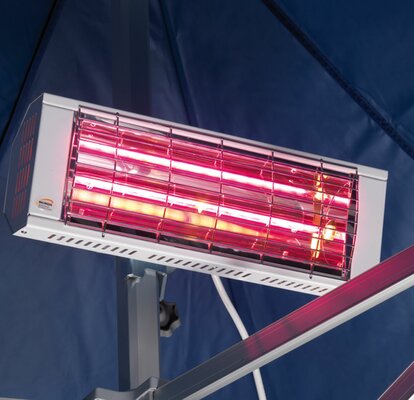 Foldable Gazebos for Balconies of all Sizes.
Do you want to use the space of your balcony efficiently? Then we have good news for you: Just tell us your desired dimensions and our experts will find the right gazebo solution for your oasis of well-being at home. shortyshorty
Mastertent's Shorty and the Balcony Gazebo.
Matching the slim balcony tents, Mastertent supplies the particularly compact Shorty set. The beer table set is only 108 cm long and offers space for four people. Of course it is foldable and can therefore be set up and folded again quickly and as often as required.