Culture in our Production Hall
Culture in our production hall - our yearly charity event. 
Once a year the production hall of Mastertent is turned into a unique location creating a very special atmosphere for music, theatre, cabaret and comedy.
Extraordinary and Breathtaking
Extraordinary artists need an extraordinary location. Therefore, once a year the production facilities of Mastertent are transformed into a breathtaking stage creating a unique cultural experience for all visitors.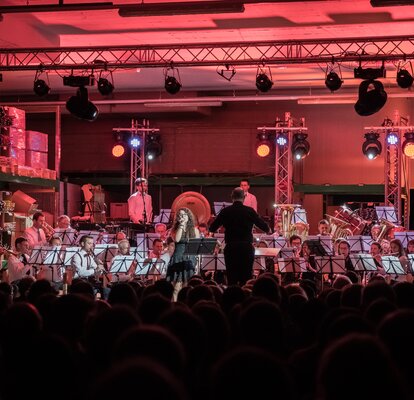 MASTERTENT for the good purpose
The excitement is great every year, when Mastertent's "charity philosophy" moves into the spotlight again. As usual the net revenue of "culture in the factory" is donated to 100% to different projects.
The Concert of the Landesjugendchor Südtirol
An evening of musical entertainment with performances of various choruses and bands inspired the approximately 500 spectators. The very special location - Mastertent's production hall of tables and benches- made the concert even more unique. The special setting contributed significantly to the concert's success. Thanks to the combination of the light show, the lovely voices and the industrial setting, the concert will stick in the visitor's mind.