Giovanni's fish stand and passion at the Venice fish market
Stand out among the hundreds of vendors at the most famous fish market in Venice? Mastertent will help you!
Today we are in Venice, amidst the hustle and bustle of the fish market next to the Rialto Bridge. It is still early and the Venice fish market will only open in half an hour, at 7.30 am.
Giovanni's fish stand
The fishmongers are already busy setting up their fish stands and are preparing everything for their customers. We are looking for Giovanni Bartello, a passionate fishmonger. It does not take long for us to find him, since he has an eye-catching and unique fish stand. Firstly, the red colour of his Mastertent 3x3 m folding gazebo immediately catches the eye, secondly, Giovanni is the only fish market vendor with his company logo on his stand.
Passion and hard work at the fish market in Venice
Giovanni and his two sons welcome us warmly with Italian coffee and homemade sandwiches. "This is the calm before the storm," Giovanni's eldest son Antonio explains, "we are passionate fishermen, but unfortunately the business is really tough. Many daily tourists want to see the famous fish market in Venice. The problem though is that they literally storm the fish stand and try out the fish, but mostly do not buy anything. Too often we have to throw away leftover fish.
Giovanni notices his son's disappointed face and comforts him "Unfortunately it is true, but our new Mastertent fish stand saves us a lot of time and we can still get to the Jesolo fish market in time to sell the rest of our fish." Giovanni also explains "Until recently we had a simple fish stand which had many disadvantages. It took us one hour longer to set up our stand and we were always the last ones to finish dismantling. After intensive research we decided to buy the 3x3 m folding gazebo - a folding gazebo that has literally changed our life at the fish market. Setting it up and taking it down is no longer a challenge. Now we are the fastest in mounting our stand in the morning and the first to leave and go to the Jesolo fish market."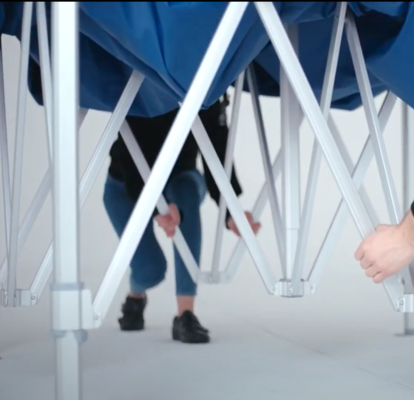 Cozy atmosphere no matter in which weather condition
Rain is forecast for today, but Giovanni is not worried about that at all. While he is talking to us he is fixing the sidewalls with Velcro to his Mastertent fish stand.
"The sidewalls create more space and a fully covered area. My customers can choose their favourite fish without hurry and sheltered from bad weather."
While we're having a delicious coffee, he tells us how happy he is with his new 3x3 m fish stand and that he will definitely recommend it to others. With the logo on it he not only stands out from the hundreds of vendors in the Venice fish market, but has also acquired recognition. "My customers like to come to my stand and thanks to Mastertent, selling fish has finally become my passion again," he concludes.