Hello George!
A Marketing Story
"How can we best promote an innovative product? And how can we reach and engage the millennial audience?" 
These were two key questions asked by the Rumanian full-service advertising agency Chown & Jansen JWT when creating an advertising campaign for "George".
Are you curious about their creative solution?… Read on and find out for yourself!
George, the first intelligent banking, is a digital banking platform launched by BCR in 2018. As part of the 2019 communication platform, Upgrade in George's world, the brand became sponsor to a number of major events in Romania: Jazz in the Park, Awake Festival, Afterhills Festival, etc.
In order to have a powerful branding and also a space to engage with the participants, the Romanian full services advertising agency Cohn & Jansen JWT, decided to produce the George tent for his client – BCR .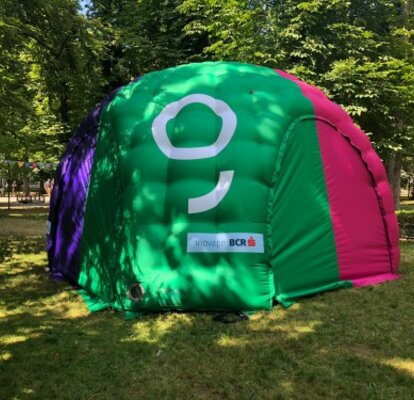 "It has become an important branding item for us and also a place where we can get in contact with the public and upgrade them into George's world.", says a marketing manager from BCR.
Our Innovative Promotion Product
At the "Jazz in the Park Festival", the tent celebrated its premiere. Together with colored flags and branded cushions, it made an excellent debut. The festival-goers used the tent as a chill corner to relax and enjoy the music in the cool shade. Four days full of music and contagious festival spirit put everybody in a good mood. BRC was able to directly engage with the participants and upgrade them into George's world.
In short, this story proves that promoting an innovative brand using an innovative promotion product helps to attract a young audience and is best achievable by presenting it at "below the line" activities.
Particularly Mastertent's Marketing Department is extremely delighted with this successful campaign!