In-House Fair 2022
A cooking-show, guided tours in the factory and many novelties
Mastertent's first exhibition for the gastronomy, restaurant and hotel industry
On 28th September 2022, the first Mastertent company exhibition took place at our headquarters in Sciaves (IT). The objective? To further strengthen our relationship with the local population, to give everyone the opportunity to visit our production halls, to discover how we create top-quality tents and to let people touch and check out our products live.
The Protagonists
Kitchen Gazebo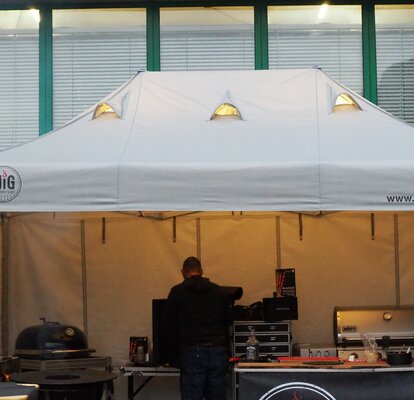 The undisputed star of the day was our kitchen gazebo, made entirely of refractory fibreglass, which hosted the Mig team's cooking show that continued throughout the event. Fire and flames did not distort a single seam in the folding gazebo and the dormer windows on the top of the roof allowed perfect ventilation and smoke escape. Moreover, together with the LED lighting underneath the roof, they've created a unique effect.
Loden Kit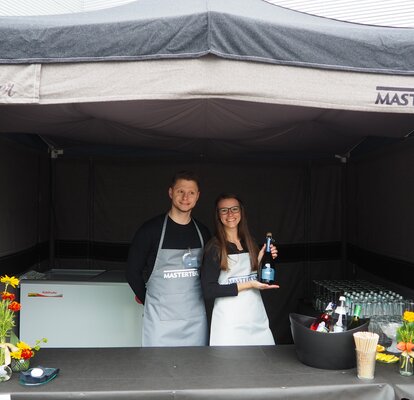 On such a chilly day, nothing could have warmed up the atmosphere and our barkeepers better than the Loden Kit. A gazebo covered in a typical South Tyrolean fabric made of pressed wool and produced by the well-known Moessmer company. The sidewalls not only protected from the wind but also kept the heat produced by the radiator inside and allowed our bartenders to serve drinks in complete comfort without freezing.
Pagoda Tent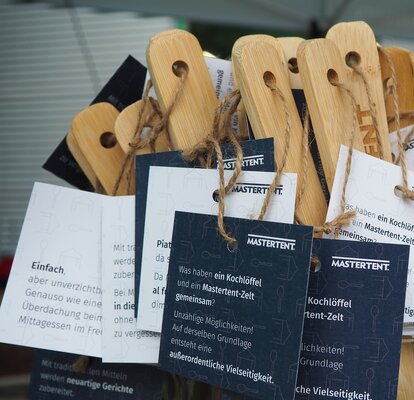 A marketing stand that stood out! With its extremely high top and our Mastertent flag, the pagoda-roofed gazebo was the perfect gazebo to make our marketing area and welcome desk stand out. For our guests it had lots of goodies, a multimedia totem and a warm welcome in store!
Kit Royal and Pirontex®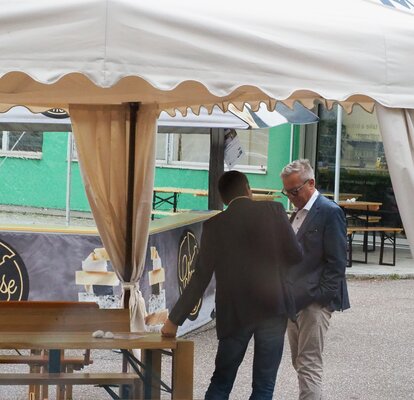 By now it's almost impossible that you haven't heard of it. The new Pirontex® fabric, launched in the first half of 2022, has left its mark on the history of tents and there is no turning back. With its matt and elegant appearance, environmentally friendly production process and extreme durability, it is the perfect fabric for our Kit Royal. Simple, fine and harmonious. Ideal for sophisticated occasions where atmosphere makes the difference.
The Factory Tour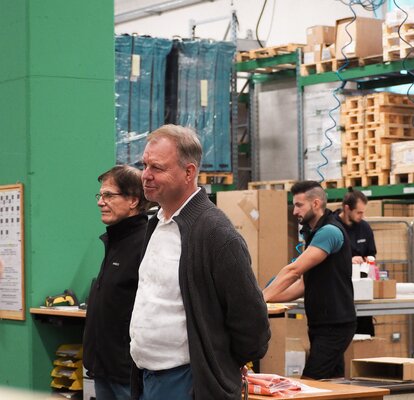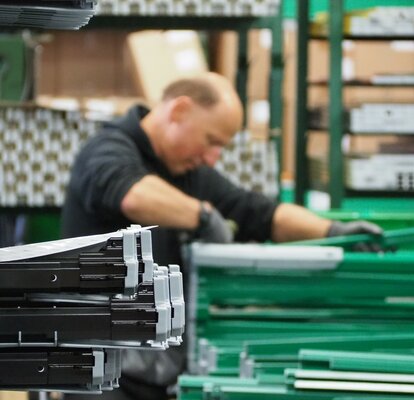 The tour in our production and warehouse halls with Stefan Zingerle, captivated everyone's attention. It was all about aluminium profiles, assembly of the structure, roof and finishing of the smallest details in an environment in which machine and man work harmoniously together to create perfect parts of the highest quality. How often do we ask ourselves how things are made or spend time watching production videos on social media or TV? At the company exhibition our guests had the opportunity to get to the bottom of it, clarify their doubts and let themselves be hypnotised by curious manufacturing processes.
Cooking Show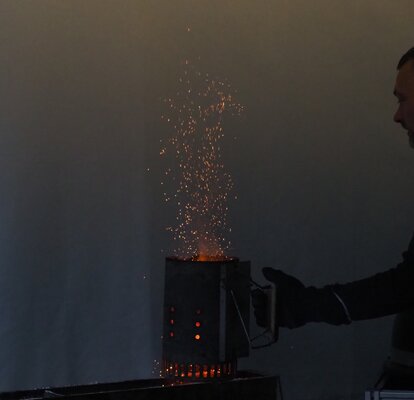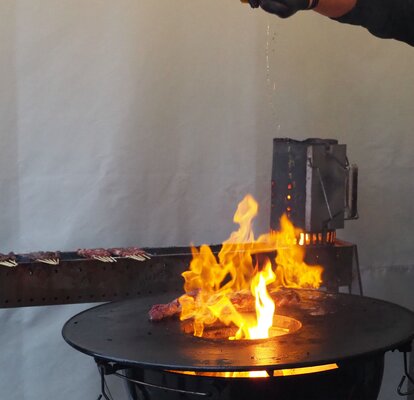 Fire, flames, sparks and embers. The atmosphere became incandescent thanks to the cooking show of the MiG - Alpine Grill & BBQ team, who not only entertained us with fiery games, but also tickled our taste buds with an all-grilled fingerfood menu consisting of: arrosticini, pressed dumplings, chicken wings with bbq sauce and whiskey-flamoured Skirt-Steak. Literally finger-licking!