The mobile vaccination tent from Mastertent
Absolute safety for COVID-19 vaccinations in the Mastertent vaccination tent.
Worldwide, vaccinations to protect against COVID-19 are in full swing and doctors are working non-stop. In addition to numerous vaccine doses and hard-working assistants, room is needed.
This is why we at Mastertent reacted immediately and created a very loyal partner for these difficult times: our mobile vaccination tent! We developed it together with doctors and took into account everything a safe vaccination requires.
The vaccination tent is stable, safe, offers maximum protection and is perfectly suitable for both indoor and outdoor use. It is also possible to connect several vaccination tents and thus create a complete Corona vaccination centre in a very short time, perfectly adapted to the given circumstances.
How is the vaccination tent organised?
For a safe vaccination against the SARS-CoV-2 virus infection, we have designed a vaccination tent together with doctors. It consists of the following three rooms: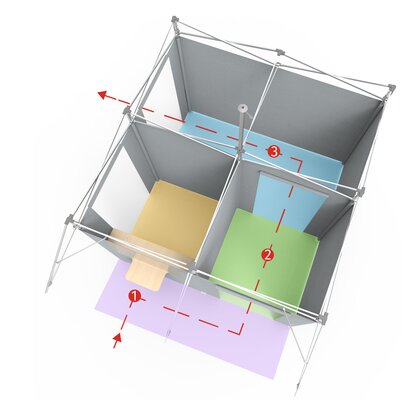 On the front side of the vaccination tent there is the check-in area where the person to be vaccinated can register. Here, all relevant documents are exchanged through a protective, transparent PVC window with a slit. They can be filled out on a wooden counter.
Right next to it there is the entrance to the vaccination room. These two rooms are equipped with an awning on the outside to protect people from direct sun and rain.
A door in the partition wall of the vaccination room leads to the rest room at the back of the vaccination tent, where the vaccinated persons can rest for a while.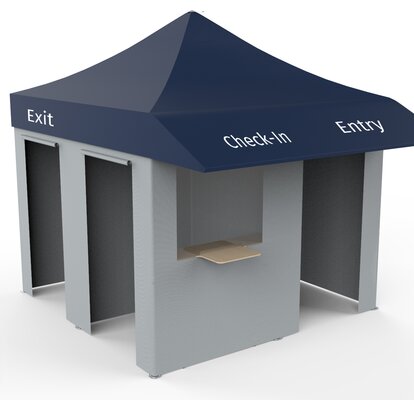 The Mastertent vaccination tent is available in three different sizes: 3x3 m, 4.5x3 m and 6x3 m. For the construction of a big vaccination centre, the vaccination tents can be connected to each other to create one large unit.
You need alternative solutions to our Mastertent vaccination tent?
Of course not every vaccination centre is organised in the same way and therefore our vaccination tent solution cannot be 100% suitable for everyone. In our standard product range you will find other possible components for your individual vaccination tent. Usually several separate rooms or tents are needed in a vaccination centre - especially to maintain minimum distances, for more hygiene, privacy and patient isolation:
the registration tent

a waiting room

the vaccination tent

the rest room, where patients can rest after vaccination and any side effects can be observed

a laboratory room for storing the vaccine doses

a waiting room for accompanying persons
Our folding tents are available in 12 standard sizes and can be equipped with sidewalls or partition walls inside the tent.
Thanks to the high-quality materials of our folding gazebos, maximum safety and stability can be guaranteed. This is very important because some vaccination centres are set up in the open air and therefore have to withstand all weather conditions. After all, it is necessary to be able to carry out vaccinations at all times.
In addition to our classic folding gazebos, we have developed mobile patient rooms that are particularly suitable for indoor use. To provide a good air circulation they are equipped with a fly net at the top instead of a usual gazebo roof.
Helpful accessories
Partition walls
In order to provide our customers with a perfect room division solution, our product range includes fixed partition walls (with or without transparent PVC window), which can be used, for example, to divide larger vaccination tents into two or more rooms. These partition walls cover the entire height of the tent and are attached directly to its aluminium structure.
For a mobile solution, we have designed partition walls made of transparent PVC and aluminium poles in four different heights. They can be moved and positioned according to the given situation and easily cleaned and disinfected several times a day.
These mobile partition walls can also be printed over their entire surface and thus used as guidance systems.
Fastening
To be prepared for any weather, the vaccination tent can be stabilised with additional weights, allowing it to withstand wind speeds of up to 100 km/h. This is ensured by placing our 28 kg weights, which are best suited to hard ground, on each of the four feet of the gazebo.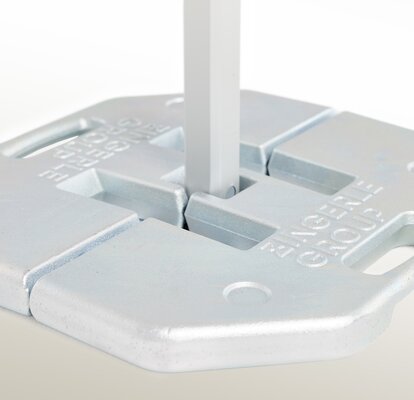 A better overview
All of our folding gazebos can be freely designed. The roofs and sidewalls of your vaccination tent can be printed partially or over the entire surface. This means that you can print signs for a better orientation of visitors in the vaccination centre on them. This is a big advantage, especially in larger vaccination centres.
Simple and fast
Thanks to our handy Mastertent vaccination tents we can guarantee that a vaccination centre can be set up very easily and quickly, because there is no need for tools.
Since we manufacture all the components of our gazebos ourselves, you can also count on a very fast delivery!