Party Tent becomes Test Station
Solidarity and helpfulness belong to the corporate philosophy of Georg Zingerle, the owner of Mastertent, just like passion and willingness to act.
Helping, turning the company's purpose completely upside down and being a pioneer through innovation exactly in times of crisis? That's Mastertent. We don't just observe, but help and lead medical and business into a new "safe normality" with our COVID-19 solutions.
Read here about Mastertent's charity campaign in Lombardy and how the party tents there were converted into test stations.
Gazebos on a Special Mission
Usually, we rent our gazebos for sports and music events. Now the gazebos are in use against COVID-19. 120 of our folding tents have been provided free of charge to various institutions such as hospitals, civil defence and the medical service. They even made their way to the airport.
84 Gazebos for Lombardy
The North Italian region of Lombardy is known as Italy's central area of the COVID-19 crisis. The media reported daily about shortages in medical services and how the COVID-19 heroes are sacrificing themselves.
This is exactly why Lombardy was the main target of Mastertent's donation campaign in March. There, a total of 84 gazebos of the rental park was provided free of charge for the daily fight against the virus.
24 tents: Civil defence - Sondrio
24 tents: Italian Red Cross - Regional Committee Lombardy
36 tents: AREU - Azienda Regionale Emergenza Urgenza, Milan
We are aware that this was only "a drop in the ocean" concerning the whole Corona crisis in Italy. But a steady drop wears the stone, so we are proud that the tents could be used there in a meaningful way.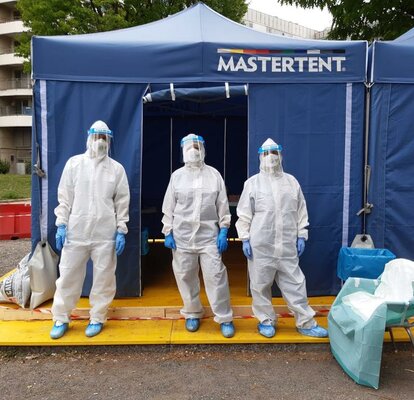 The Blue Test Stations
Event tents in the corporate colours of Zingerle AG became blue test stations.
Directly at the hospital entrances in Sondrio and Brescia, the blue test stations were installed as hospital extensions for Corona testing.
In Voghera, paramedics and hospital staff were regularly tested for infections in the blue test stations.
A whole test centre could even be installed in front of the hospital in San Paolo. While smears were taken from people in cars for rapid tests, positively tested people could be examined further in the folding tents "next door".
At the airport in Linate, however, the waterproof tents were used as a storage station for hospital laundry. Thus the gazebos could once again prove themselves as mobile space under the open sky.
Gazebos still in Use
Only what can be measured can be managed. To prevent a second wave of epidemics, tests are still being carried out throughout Italy and all around the world. Developments are being closely observed. Just yesterday, May 5, it was reported from a blue test station consisting of Mastertent tents in front of the hospital in Brescia, that 5,923 people are now considered cured with double negative Corona test. Sounds promising, doesn't it?
We are already looking forward to the new tomorrow! But we know that only with prevention in all areas, both in the medical sector and in companies, the Coronavirus can be overcome.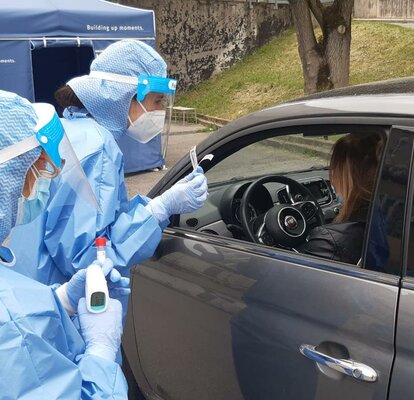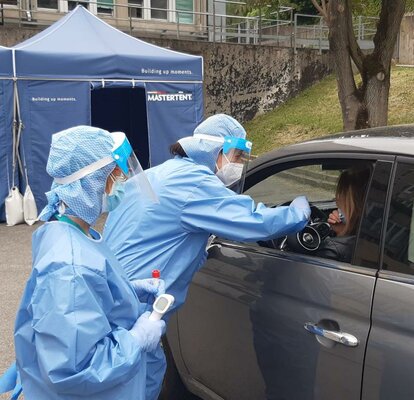 This is how Corona Prevention Works