Garden Tents - Mastertent
Waterproof  garden tents - choose the right size and colours for your garden
With one of our garden tents, you will survive every summer thunderstorm.
Garden tents can be used in many different areas, whether as a garden shed or summerhouse or as a shelter for garden parties or terraces. Our garden tents are 100% waterproof and available in different sizes. The advantage of our garden tents is that they can be assembled in a matter of seconds, and in contrast to fixed tents, they can be stored away properly during the winter.
Garden tents for every garden
Whether you require your garden tent for elegant events or as a shelter for your friends at the next BBQ party, your garden tent can be kept plain and straightforward or sleek and stylish. The garden tent can also be converted into a garden shed alongside side walls. It is ideal for special occasions when combined with elegant corner curtains and if one of our elegant colors, "ecru" or "bordeaux," is chosen.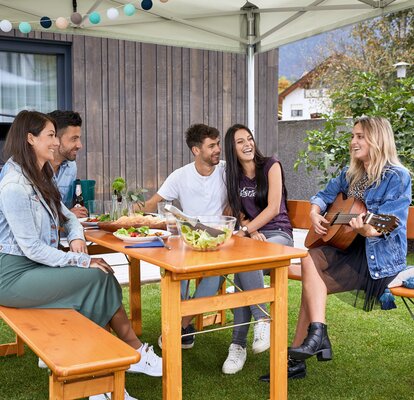 Garden tents for the restaurant trade
Our garden tents are used particularly often by the restaurant trade. Many innkeepers cover different areas of their gardens and terraces. Guests can therefore enjoy the fresh air outside and relax with no restrictions.