How to Prepare Your Outdoor Business for Winter Weather
Business doesn't have to slow when the temperatures go down. 
As the busy summer and fall seasons come to a close, many industries and businesses start to wind down for the winter. However, there are still opportunities to engage with customers and sell your product with the right preparation and a little creativity.
Sitting down, evaluating, and thoughtfully preparing your business strategy for the winter season can keep business steady - or growing in those last few months of the year.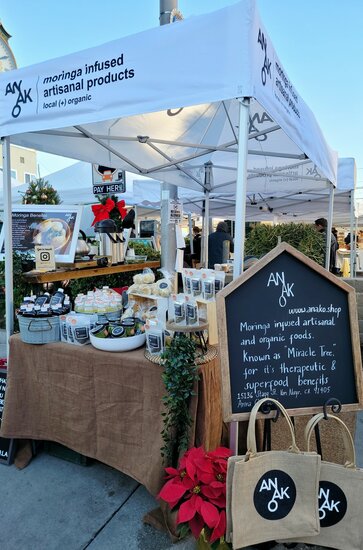 Here are a few simple steps to optimize your business and winter tent strategy, allowing you to make the best of end-of-year marketing, winter farmer's markets, holiday pop-ups, or however your business goes mobile this winter.
---
1. Start with a strong foundation.
First things first, you need a winter tent that can weather the elements. If you plan on using your tent regularly throughout the winter months, invest in a heavy-duty option such as the Mastertent Series 1 canopy tent. Built with an all-aluminum frame and backed with wind-tunnel testing for material strength, upgrading to a professional-grade winter tent can help you withstand winter winds and conditions. If you only plan on using your tent for the rare winter event, a more streamlined but still heavy-duty option like our Series 2 will suffice in keeping you and your business covered.
---
2. Remember your seasonal TLC.
Regular maintenance and a little TLC go a long way in optimizing your cold weather tent and mobile equipment performance. Whether you're ramping up or settling down for the winter season, now is the time to check your winter pop-up tent's condition and make any necessary repairs or replacements. Spending a little bit of money on reinforcements - like replacing the tires on your vehicle - can keep you operational and free from surprises from season to season while extending the overall life of your winter tent and mobile gear.
---
3. Invest in quality weather-proofing to combat colder winter temperatures.
Fighting the chill is the most significant hurdle in winter market, sales, and events. Fortunately, the proper planning and equipment can keep you, your customers, or your guests warm and comfortable. Weather protection gear like outdoor clothing, tent sides and flooring, heaters, lights, heavy-duty outdoor extension cords, generators, and more can significantly improve your mobile winter activities. In addition to your in-action tent equipment, items like our attachable canopy tent wheels or hand trucks can speed up larger multi-tent installs. Combined with our easy, tool-free canopy tent design that sets up in a minute, you spend less time in the cold setting up and more time enjoying your event.

Researching what kind of weather protection will work best for your business's needs before winter hits better prepares you for anything Mother Nature throws your way.
---
4. Ready yourself for winter winds.
Regardless of the numbers on the thermometer, wind chill can take your outdoor business to even more frigid temperatures. Strategize your outdoor winter tent location and positioning to best block the wind from where you plan to have people gather. Position your winter tent alongside a building or facing away from the wind for a more comfortable experience. When windbreaks aren't available, Mastertent sidewalls offer fully-enclosed protection for your winter tent needs. With extended flaps that secure by wrapping around the tent frame, our sidewalls close off any air gaps that might let in the seasonal chill.
---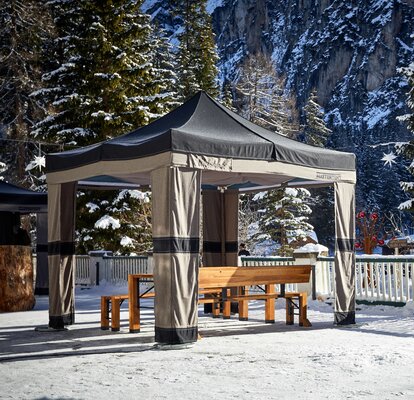 5. Leverage the holidays and smart communications.
Winter tent preparation for you might mean gearing up for big holiday sales and events during what may be your biggest time of the year! Lean into holiday festivities, for example: using traffic from existing events or markets to bring in attendance to your winter tent or sales booth. With all the energy around the holidays, be sure to communicate updates about your business to your customers: order deadlines, shipping schedules, if you're closing for a winter break, etc.

Likewise, if your events are interrupted by severe winter weather, be ready for social media and email blasts to keep everyone informed in real-time. This one should go without saying, but we'll say it anyway: always keep an eye on the forecast leading up to an event!
---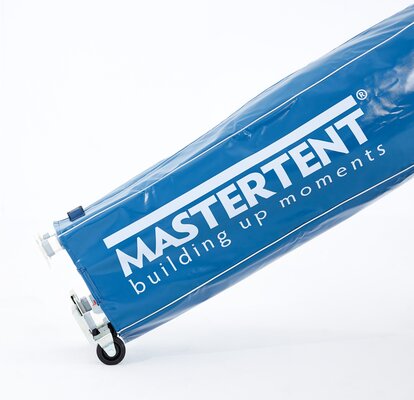 6. Create a game plan for storage and transportation.
If you plan on closing up shop for a few weeks to months during the winter (or even just storing everything overnight), having a solid game plan for how things will be stored and transported is key to keeping everything organized - and in good condition! Your Mastertent's heavy-duty, PVC transport bag will keep it protected from dust and dirt, but make sure tents are clean and dry before packing away and storing in dry, controlled conditions.
---
Taking some time to prepare your outdoor business for winter weather will pay off when those cold months roll around.Even a few small changes can have a big impact. By investing in the right tent and proper weather protection, you'll be able to weather the winter season with the best results for your business!

For more winter tips, consultations, or equipment, be sure to contact our team of dedicated Product Experts.