Sturdy Canopy Tents - Tested up to 75mph Winds*
Even the sturdiest canopy tents need proper securing!
Strong windproof gazebo for all weathers. Our storm proof gazebo protects you in every situation!
We build robust and professional-grade canopy tents that set the industry bar. Still, even sturdy pop-up canopy tents are inherently vulnerable to lifting in the wind - imagine a reverse parachute - unless adequately secured.

At Mastertent, we recommend that our canopy tents always be secured while being used outdoors and ask that our customers take responsibility for maintaining safe operating practices. You're always better off securing your tent - despite an apparent lack of wind - then you are not securing and being surprised by a sudden gust or storm!

We'll outline the best ways to correctly set up and secure your sturdy canopy tent for the proper use and surprise changes in weather!

Read the Securing Guide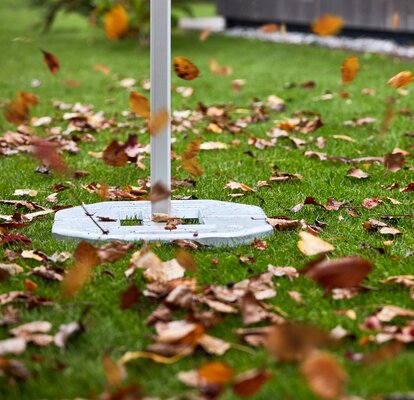 How to properly secure for a sturdy canopy tent:
To make sure that your canopy tent is not taking off, we have put together four practical tips on how to make your gazebo windproof.
Fastening on solid ground?
On asphalt, stone or cement, you can make your gazebo weatherproof by using the stackable 10 or 28 kg base plates. Thanks to their carrying handle, they are easy to transport. Is the wind stronger than predicted? No problem! Retrofit flexibly!
Fastening on soft ground?
In case of soft ground, we suggest the Mastertent fastening kit consisting of tensioning straps and pegs. Tension the straps from top to bottom and then anchor the pegs in the earth. This method guarantees wind resistance from all sides and prevents fluctuations of the weatherproof gazebo.
Apart from this, it is also possible to fix the legs of your gazebo with our rip-proof tensioning belts to fences, street lamps, trees, etc. Better safe than sorry!
Are you already proud owner of a Mastertent Series 1 gazebo with four closed side walls? In that case we would like to congratulate you on your 100% weatherproof and sturdy gazebo. No matter where the wind comes from, your gazebo will stay in position. If, on the other hand, you only have 3 sidewalls, it is crucial to pay special attention to the direction of the wind when positioning the sturdy outdoor canopy. If the wind enters directly underneath the gazebo, it is dangerous that the wind cannot find its way out and the gazebo is blown away.
---
Wind-Tunnel Tested
Our Series 1 and Series 2 sturdy canopy tents have undergone thorough wind-tunnel testing to display their construction quality and strength - withstanding windspeed upward of 75mph (120km/h) with proper securing in place at one (1) 60lbs base weight per tent leg. These results outperform the industry standards for wind testing which range from 40- 50mph (70-80km/h).

Our wind-tunnel tests were preformed under supervision of renowned engineering company, Maffeis Engineering S.p.A. and tested a variety of our tent models, sizes, and securing methods.

*Safety Warning: While wind-tunnel testing produces high-speed winds, those winds are predictable and controlled. Real-world wind conditions are not and are subject to crosswinds, swirling, and updrafts. Always use caution and ensure the proper safety measures outlined below are enforced at all time. Weather and wind related damages are not covered under warranty and Mastertent is not liable for damage that may occur as a result of improper use.

Watch our tents face the wind-tunnel!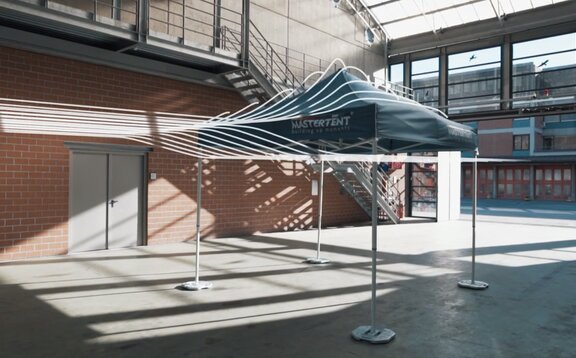 ---
What makes a Mastertent such a sturdy canopy tent?
We've invested generations worth of time and effort designing, testing, and building our sturdy canopy tents to provide the very best weatherproof durability a mobile structure can offer.

Here's a breakdown of how our tent construction stands up to the weather:
1. Tent Frame Materials & Construction
Mastertent Series 1 & Series 2 tent frames are built entirely from aircraft-grade, extruded, drawn aluminum. Aluminum frames present numerous benefits to cheaper, steel frame tents.

We favor aluminum for its balance of lightness, durability, and weather resistance. Your aluminum tent will never rust and each Mastertent frame comes with a Lifetime Corrosion Warranty.

Our aluminum is 100% recyclable allowing for a greener production process.

The tent's aluminum profile has been statically optimized during construction to achieve a low dead weight and maximum stability - making our tents light and easy to set-up without sacrificing toughness.

Mastertent tent leg profiles are built in a signature octagonal design rather than the industry's square or rectangular standard.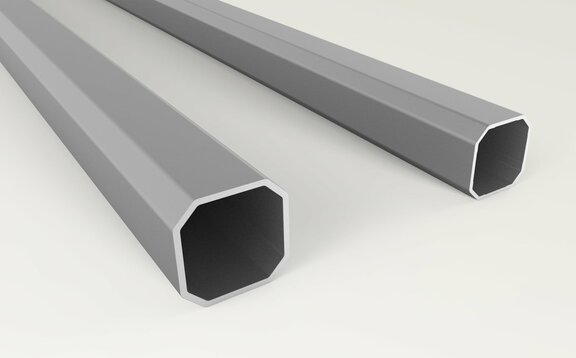 2. Tent Fabrics
The fabric material also contributes decisively to the stability and wind resistance of our weatherproof canopy tents. For the roof and the sidewalls, we use a high-quality polyester fabric, which has been tested and is guaranteed to be waterproof, windproof and fire-retardant according to EN standard 13501-1. The production of extremely sturdy gazebos is Mastertent's top priority.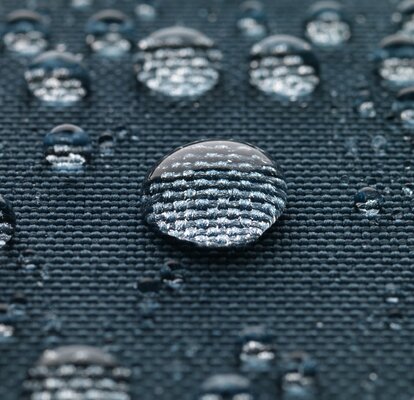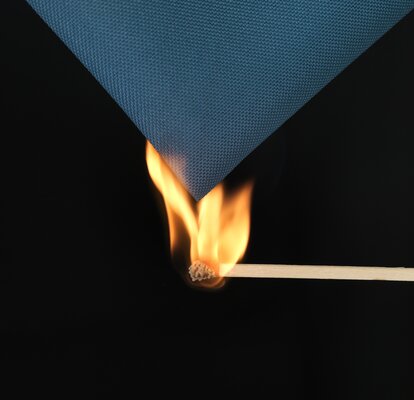 3. Canopy Tent Sizes
Of course also the weight and size of the canopy tents also influence the tents' stability. The smaller and more compact the tents are, the more sturdy and weatherproof they are. Consequently, a sturdy 10x10 canopy tent can shield against wind and weather much more easily than a large-scale one. Thus, your securing methods should be altered accordingly.
---
Series 1 and Series 2 Durability Comparison
Mastertent canopy tents come in three quality levels or Series. Our Series 1 and Series 2 tents are the most durable with Series 1 ranking over Series 2.
| | SerieS 1 | SerieS 2 |
| --- | --- | --- |
| Profile Thickness | 43 x 49mm | 37 x 42.5mm |
| Wall Thickness | 2.5mm | 2.1mm |
| Polyester Fabric: Roof | Oxford 500D | Oxford 250D |
| Polyester Fabric: Sidewalls | Oxford 250D | Oxford 250D |
Another difference between Series 1 and Series 2 is how the sidewalls attach to the canopy tent. Series 1 sidewalls wrap around the entire length of the tent leg with a fully-enclosed polyester flap for complete protection against the wind. Series 2 sidewalls are fixed to the tent with velcro straps allowing for airflow.
---
Why you can rely on Mastertent's sturdy canopy tents
We've built our tents to last, but we've also formed a company culture to provide Lifetime Customer Care to all of our Mastertent customers.
We know you'll love your Mastertent and we stand behind it with our 100% Satisfaction Guarantee on returns and exchanges for 30 days after delivery.
We offer the best warranties around with a Limited-Lifetime Manufacturer's Warranty on material and production defects.
Know your tent will last for years to come with our 10-Year Spare Part Availabilty Guarantee for the the aluminum tent frame. Each individual tent component can be replaced without needing to replace the entire tent frame.
Whatever your mobile needs Mastertent is here to help!