Medical Tents
for Critical Response
Medical tents built for emergencies, designed for people.
Mastertent Medical Tents package industry-leading, mobile solution technology in quick-deploy, tool-free designs - bringing portability, privacy and protection to critical relief and emergency situations.
For more information on using Mastertent Medical Tents for crisis response, contact us. We're here to help!
How are Medical Tents Different From Standard Tents?
Our Rescue and Medical Tent Packages are specifically designed to assist all rescue workers and patients as effectively as possible. So what makes our medical tents "medical"?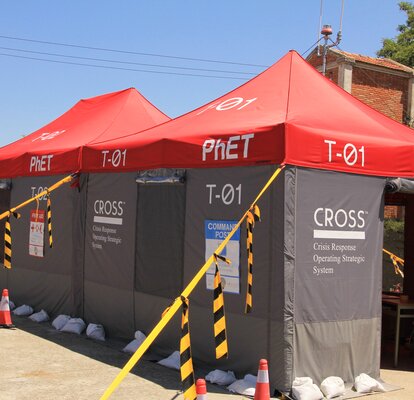 Reinforced Smart Sidewall System:

The lower third of the medical tent's sidewalls are reinforced with PVC. This allows the medical tents to be stabilised with sand bags – an indispensable feature in extreme situations! Moreover, the sidewalls of the medical tent can be connected with the tent floor to provide all-round protection for staff and patients.

3-Mode Window Privacy Options:

Providing privacy and protecting patients against prying eyes is a special concern of Mastertent. Therefore, the medical tent's windows are equipped with an opaque cover. They also have a fly net and can be closed easily by means of a zip fastener
Anti-Slip Floor Design:

The floor of the medical tent is made of Comshade fabric. It is not only slip-proof but also absorbs liquids such as blood.

Thermo-Vent Tent Interior:

With overcrowding forcing more and more hospital operations outside, temperature control becomes an issue. Upon request, Mastertent medical tents can be equipped with a secondary, interior tent- creating an air chamber between the outside and the tent interior and drastically cooling the interior temperature.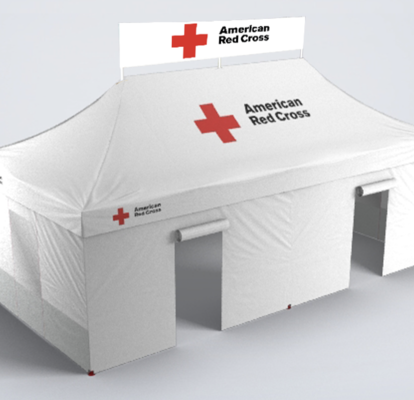 The Value of Versatility: Medical Tent Construction and Sizes
A quick and easy set-up is particularly crucial during emergency operations. Our complete pop-up medical tent system including floor and fully-enclosed sidewalls can be assembled, without tools or electricity, in 5 minutes. Crafted from highest-quality materials to be waterproof and fire-retardant and wind tough, our tents stand up to the elements of any emergency situation from serving as shelter when rescuing injured persons during accidents, triage during natural catastrophes, firefighting missions, police operations, medical patient applications, military deployments, or water and mountain rescue services.
Medical and Rescue Tents come in our 12 standard sizes with the larger 26x13 ft and 20x13 ft being the most popular for hospitals and clinics - creating space for multiple patients in one structure while the smallest 5x5ft tent creates a perfect individual examation, decontamination or changing room. For larger-scale operations, our tents can be combined in a multi-tent system to create a structure of any size to serve hundreds to thousands of people.