Professional Funeral Tent.
Funeral tent, canopy and gazebo to honour the deceased. 
A funeral ceremony requires an atmosphere that expresses respect for the deceased.
A farewell of people who were an important part of our lives should be positively remembered and therefore the farewell ceremony should meet the relatives' expectations.
The right tent size for the ceremony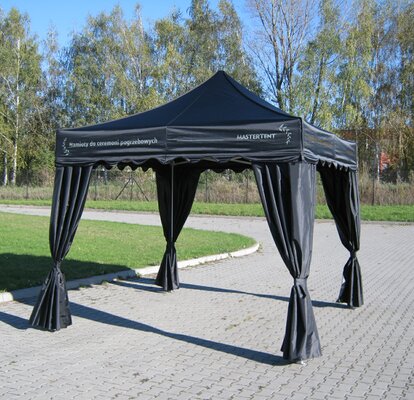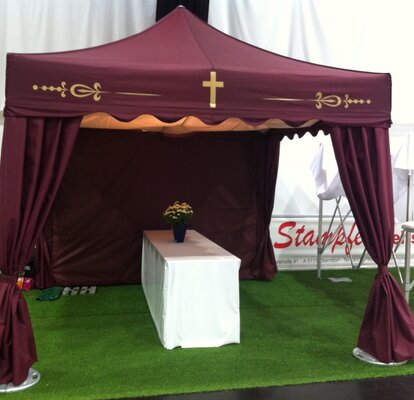 Print your funeral home's logo
As with all Mastertent folding gazebos, you can print the folding gazebo individually. The two printing techniques we carry out in our in-house print shop are the sublimation printing and thermal printing. Sublimation printing is particularly suitable for high-quality, full-surface printing. Thermal printing, on the other hand, is used for small-area print motifs, such as logos or small lettering.
For printing your funeral home's logo on your professional funeral tent we will use thermal printing. We will create a free graphic design according to your wishes and will start executing the order after print approval. Within a few days, your desired roofing will be ready for dispatch.
Elegant designs for the farewell celebration
Elegant details and accessories are very popular at farewell ceremonies. Our Kit Royal is definitely very suitable for such occasions. The corner curtains and scalloped valance provide the perfect balance between elegance and tradition: the Kit Royal combines elements of a functional, foldable gazebo with stylish design and maximum comfort for special occasions.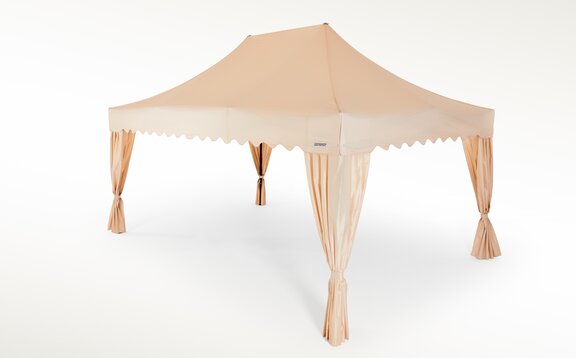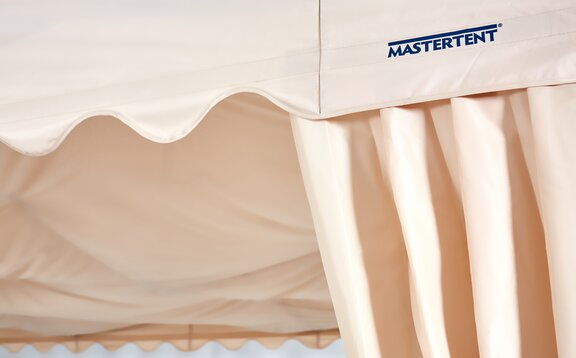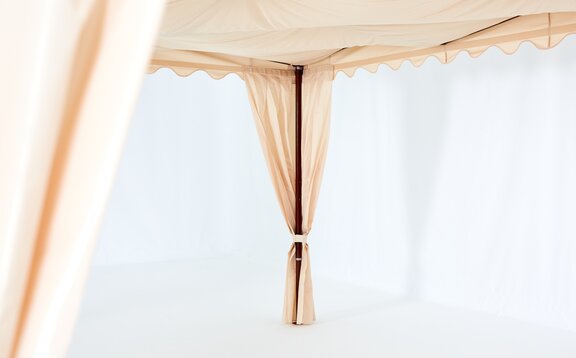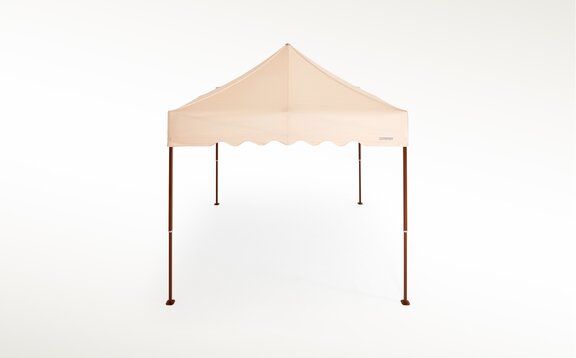 Why folding gazebos?
On an occasion as important as a funeral, no one wants to risk any problems arising. That's why it's also very important to make sure that the venue has a roofing. Folding gazebos are mobile and flexible to use, the quality fabric of Mastertent folding gazebos as well as the impregnated seams make the folding gazebo 100% waterproof. It should also be noted that the height of the folding gazebo is easily adjustable. Last but not least, the folding gazebo can be set up in 60 seconds without any tools, as the folding gazebo consists of one piece and has no loose parts.
The right accessories
The transportation wheels, which can simply be attached to the foot plates of the gazebo's legs, might be very handy for a funeral, especially if the grave is not directly at the entrance of the cemetary or if it is not easily accessible.
To securely fasten the folding gazebo, do not forget the 28 kg cast iron weights that can be attached to the feet of the corner posts and are thus fundamental for the stability of the folding gazebo.