Trade Fairs 2023 - Mastertent Live
Mastertent near you - don't miss out the 2023 programming
Mastertent 2023 Exhibition Previews and Reports
At Mastertent® we always try to maintain a constant relationship with our customers and stakeholders. That is why we plan to participate in several trade fairs throughout Europe again this year. One of our goals is to always shorten the distances and let you try and experience our products first hand.
We look forward to seeing you!
Programming of Upcoming Trade Fairs 2023
The fairs are over for this year, but don't worry, new and updated programming for an exciting 2024 will be released soon.
---
Past Trade Fais 2023
REAS - Montichiari (IT)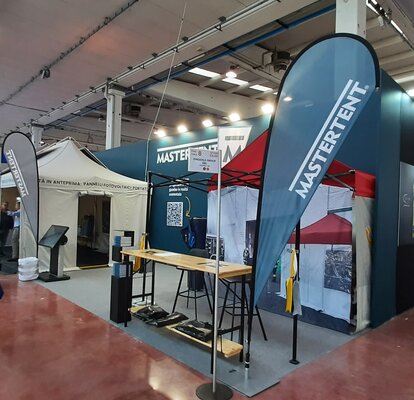 From 6 to 8 October 2023 we attended, as usual, REAS, the trade fair dedicated to the first aid and emergency sector that takes place annually at the Montichiari Exhibition Centre (BS).
Like every year, we immediately felt at home given the quantity of Mastertent tents on display at the various stands of the Civil Defence, Police and Red Cross. Also contributing to the homely atmosphere was the number of customers who dropped by to greet us, curious to discover the novelties we are committed to bringing to the fair every year. Last year we brought our fibreglass refractory fabric and the extra-strong and sustainable Pirontex® fabric, both of which are only available by Mastertent and both were received with great enthusiasm. But this year we wanted to outdo ourselves....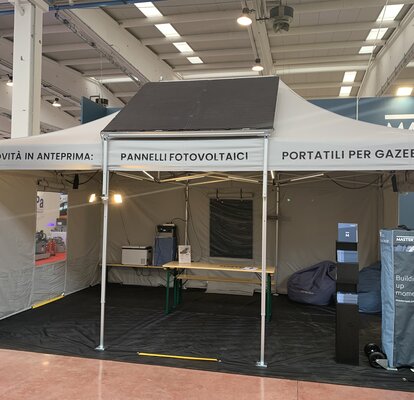 We continue to develop new products in step with the times and the needs of our customers, and after years of testing we have finally come up with a not yet marketable, but already highly satisfactory prototype of a photovoltaic panel for folding gazebos.
We arrived at this product with the need to provide electricity in the event of long rescue operations or for tent camps in the event of major natural disasters in mind. This is a fourfold advantage for use in the most complicated situations:
Power supply in places and situations where it would otherwise be difficult to obtain it
Clean energy to make a small contribution to saving the planet
Free and cumulative energy thanks to the battery pack
Versatility of use due to the ease of assembly, but at the same time to the extreme stability of the panels
These advantages add up to all the features of our Rescue Kits designed specifically for the emergency sector.
We take particular pride in surprising new and old visitors with each passing year, and in standing out from the competition with our technological advances and technical details.
---
Marke(ding) - Vienna (AT)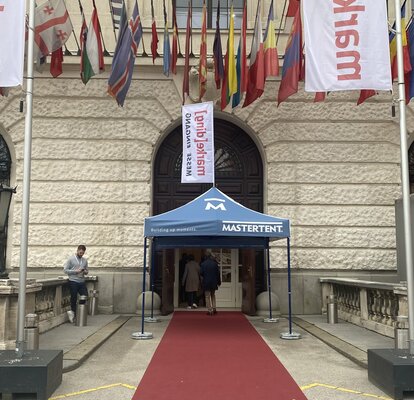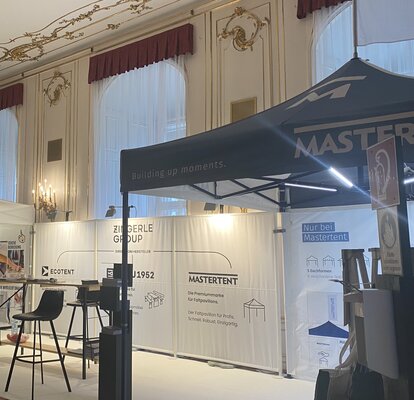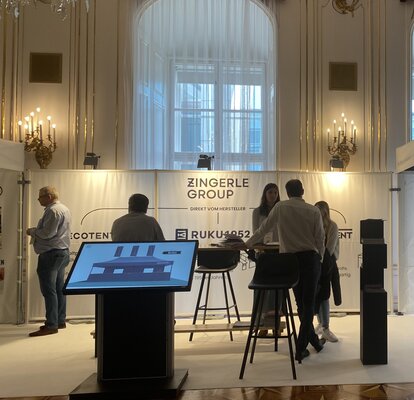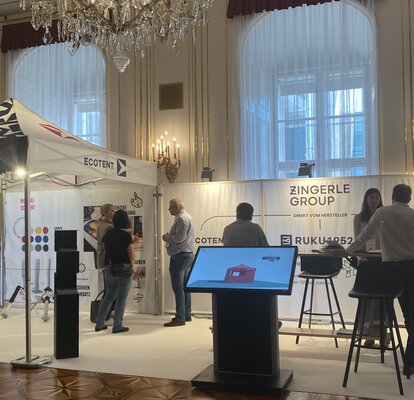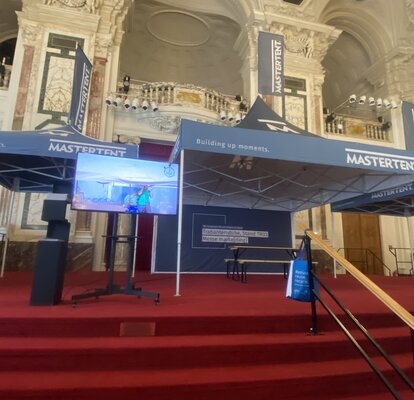 On 18 April we participated, as usual, to the MArke(ding) marketing and communication trade fair, which takes place every year at the Hofburg in Vienna.
This year, however, we surprised all our old customers with a big surprise! For the first time, we brought the Zingerle Group to the fair and presented our second gazebo brand Ecotent®.
The novelty was more than warmly received and it was fun and inspiring to show the differences between the two tent brands, but offering a wider range, allowed us above all to be able to offer each individual an even more specific and customised solution.
Our tents always catch the eye and at Marke(ding) 2023 it was impossible not to notice us! At the entrance, one of our 3x3m tents made of premium Pirontex® fabric with a customised flag welcomed and sheltered the queue of visitors.
On the other hand, three tents sprouted from the stage, including a huge 5x5m Pagoda-roofed one that dominated the entire hall with its elegant shape and height of 497 cm. And finally the focal point: our stand, where Rainer, Alex, Wolfgang and Sonja welcomed the participants under a Mastertent® and an Ecotent® gazebo and told the incredible story of the Zingerle Group and its turnaround in this 2023.
Of course, between Ecotent® and Mastertnt® there is no competition. There is only the fact that thanks to these two brands we can offer the right solution for every need and occasion.
We produce all our folding gazebos with passion, using high-quality materials and sophisticated technology.
Mastertent® still remains our premium brand for professionals which continuously offers innovative products. Moreover, only this brand enables endless customisation possibilities and many small technical details and advantages that make the difference in the utilisation of folding gazebos!
---
HIP Horeca Professional Expo - Madrid (ES)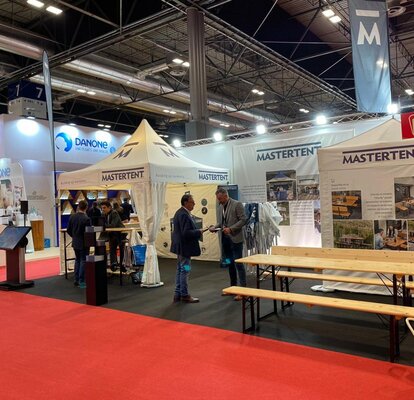 Once again this year, we wanted to participate in a trade fair dedicated to the gastronomy and tourism sector in Spain, and in this 2023 we decided to go to the iconic HIP in Madrid from 6 to 8 March.
By now we have accumulated a lot of experience in the sector, and we know that what is most appreciated by visitors from the sector are: the infinite personalisation possibilities, the manufacturer's guarantees, and the solidity and durability of our products.
The 3x3 m pagoda tent with scalloped vallance caught everyone's eye, but what impressed and amazed most was the brand new 3D configurator with augmented reality. Visitors were able to configure their dream gazebo and visualise it right in the surrounding space under the expert guidance of our Spanish staff. This enthusiasm was proof that we were right to invest in innovation and that this new tool is a step in the right direction to make the customer experience increasingly better.
---
Kiloutou Yellow Partners Days' (closed doors fair) - Lille Grand Palais (FR)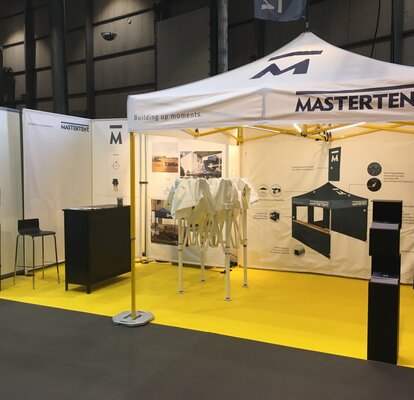 2023 got off to a flying start with the 'Yellow Partners' Days' trade fair organised by our partner Kiloutou on 11 and 12 January in Lille Grand Palais, France. This was not only the first trade fair of the year, but also our first participation in a trade fair in the building and construction sector.
Despite the novelty, we immediately felt at ease: our tents with their extremely stable and resistant fabrics and structures are already the faithful companions of many construction companies who need durable and robust material. Other features that were highly appreciated by this audience were: waterproofness, fire resistance, versatility and the multitude of accessories for fixing, transport and lighting.
Yellow, as the colour of the Kiloutou brand, was the leitmotif of the fair, and we adapted accordingly, fortunately we also produce coloured gazebo structures!
We also produced the stand partition walls ourselves using the structure we had designed in 2020 for the partition walls for Covid19 and modified it according to our new requirements. As manufacturers, we can customise anything!
Definitely an experience to be repeated in the years to come!
---
We are Always on the Move!
During the year plans may change, stay tuned for the latest on our events!
Subscribe to our newsletter to be notified when we are near you with a fair or event.
---